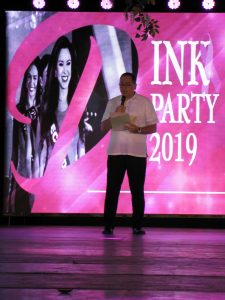 The color pink shone so brightly at the Waterfront Insular Hotel Davao last October 3 when the hotel by the sea celebrated Pink October, otherwise known as the Breast Cancer Awareness Month, with lawyer Resci Rizada as emcee. Along with its event partners the Municipality of Loreto, Agusan del Sur, and Carousel Productions plus its major sponsors Love & Styles, the Province of Maguindanao, BaiHinang Women Artists, Transcycle, El Bonita Events, Beautederm and Cacao and Beyond, everyone joined hands with women advocates and the 25 stunning candidates from all over the globe vying for the title of Miss Earth 2019 to help spread awareness about breast cancer; and to raise the much needed funds to help underprivileged women who are in need of the early detection test and proper treatment of breast cancer.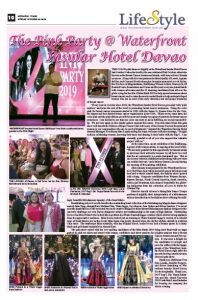 "Every year in October since 2016, the Waterfront Insular Hotel Davao goes pink with 'pink matters;' and joins the rest of the word in promoting breast cancer awareness. Using the color pink for breast cancer awareness started in 1982 with the Susan G. Komen Race for the Cure, the largest and best funded breast cancer organization in the USA. Thirty-seven years later, the color pink and the pink ribbon are still the most universally-recognized symbols for breast cancer awareness. I am thrilled to see that one color can unite us all in fulfilling our social responsibility. We are here again in this charity gala to support this cause. Proceeds raised from this gala show will benefit the Ribbon of Hope Cancer Care Advocacy of the Davao Doctors Hospital and women in our communities who are in need of treatment," narrated the Waterfront Insular Hotel General Manager Yves Bryan Sato Lasala ending his warm welcome with this message, "Tonight is about celebrating women, knowing their story and sharing in their battle with the Big C. I am eternally grateful to all of you who support this valuable project with us."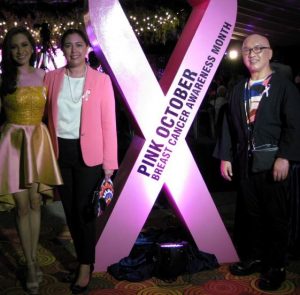 At the same time, an art exhibition of the BaiHinang, a group of all women artists, is ongoing at the hotel lobby. "We are truly grateful for this opportunity for female artists to showcase their artworks because we all know too well that the art community is a male-dominated one. This is one avenue wherein established artists along with new ones can exhibit their art," artist Miyen Gaston Lim said during the opening of the painting exhibition.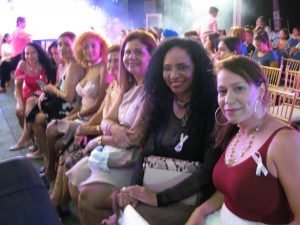 After a hearty meal prepared by the Waterfront Executive Chef Nino Ante which included a most delicious roast beef and a whole roasted lamb, the fashion show opened with a bang. Gorgeous candidates from Western Europe, Eastern Europe, North Central America, South America, Africa and Southeast Asia donned beautifully the glittering ballgowns from the collection of Love & Styles by Cristina Yip.
Director Arnold Alvarez's SiningTala Dance Troupe performed mightily their interpretation of a Mindanaoan suite as introduction to the fashion show utilizing the strikingly beautiful Mindanaoan tapestry of the Inaul fabric.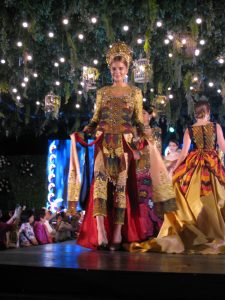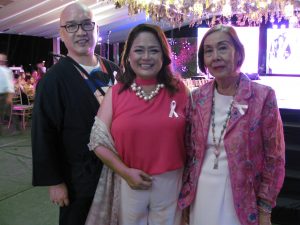 Breathtaking is how I would describe the outstanding Inaul collection of the Makabagong Maguindanao designers namely Mac Taug, Akmad Kari, Melissa Chin, Thato Inggo, Joy Abayon, Jose Quitco and Julien Gentica. I've never seen the Inaul fabrics of life executed into such creative designs by these talented Mindanaoan fashion designers who can truly challenge our own Davao designers' artistry and craftsmanship in the name of high fashion. Outstanding for me was Miss Poland who looked like a goddess in a Thato Kambali Inggo creation which elicited strong applause from the appreciative audience. Miss Korea looked just as stunning in Thato Kambali Inggo's version of a colorful terno of Inaul fabrics just as the lovely Miss Spain was loudly cheered when she did her stylish catwalk in a Melisa Chin terno. The statuesque Miss Australia, who has Filipino blood, looked every inch a beauty queen in a classy black and gold Inaul ensemble by Akmad Kari.
The gala show ended with the ever smiling candidates of the Miss Earth 2019 doing their final walk on stage garbed in pink tee shirts and armed with beauty, confidence and sheer passion for a higher purpose that is Breast Cancer Awareness and Prevention. It was such a delight for the candidates to mingle and pose for selfies with the happy guests of the Waterfront Insular Hotel Davao right after the smooth flowing Arnold Alvarez directed gala show.
Thank you, GM Bryan Yves Sato Lasala, Jennifer Romero, and Eezee Gamalong of Waterfront Insular Hotel Davao for the hospitality. Thank you, DOT Reg'l. Dir. Tanya Rabat-Tan and Ms. Grand Universe 2019 Leah May Luna Panisales for keeping me company the whole evening.