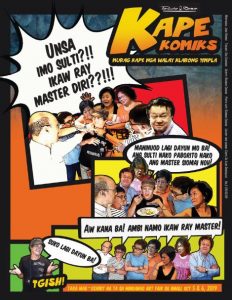 On October 5 and 6, 2019 Mindanao Art Fair and Exhibit (MAFE) will hold its art exhibit at the Atrium of GMall along Claveria St., Davao City. Artists from Davao City, Manila and other parts of Mindanao are exhibiting their works from paintings to sculptures.
The participating galleries in MAFE launched their advertising collaterals to promote the said event mostly with posters of their galleries and their individual exhibiting artists through social media. Another tool that Tabula Rasa used as a promotional material was a series of comic form advertising with a little humor for our viewers to visit our exhibit in MAFE.
Comics is a visual medium used to communicate ideas through images, usually combined with text or other visual information.
The exhibiting artists of Tabula Rasa for the MAFE contributed to the creation of this material. Jane Ramos gave the masthead title- KAPE KOMIKS. The tagline was extracted from Ega Carreon's narrative about Tabula Rasa regarding the Davao art industry before Tabula Rasa stepped into the picture- 'MURAG KAPE NGA WALAY KLARONG TIMPLA' (Like coffee that is not well brewed). Brando Cedeño provided the storyline, script and direction of the first three comics and photo art of the characters and Daryl Descallar did the layout and graphic design. Those who were not present in the group photoshoot for the comics sent their photos individually following instructions from Brando Cedeño so that they will fit the required expressions in the script. In order to create this material successfully, all of the artists were in a good, fun mood and ideas naturally flowed.
Language used is Cebuano. KAPE KOMIKS is not available in English or any other language. Sorry. The humor of the script is best expressed in Cebuano.
KAPE KOMICS in full color is a first in Davao, a collaborative work of Davao artists. It was well received by friends when it was posted on Facebook. Someone even suggested that other artists to make their own comics and compile these to create a Davao comics material.
We will release our third and fourth issue soon to invite the public to come to the MAFE, see the works of our talented artists and visit the Tabula Rasa gallery. Our exhibiting artists are: Dadai Joaquin, Jane Ramos, Madoline Dela Rosa, Jojo Jimenez, Brando Cedeño, Dinky Munda, Jr. and Daryl Descallar. The Tabula Rasa theme is 'Leaving & Living.'
Comics is an interesteing medium to convey or promote ideas that can amuse viewers. It is still a powerful medium and we hope to create more KAPE KOMICS for our readers' enjoyment. Happy reading!
The MAFE theme: Traversing the River of Creativity is a concept of Mindanao Times Chief Editor Ms.Amy Bandiola.
The TABULA RASA ART GROUP GALLERY will showcase the works of seven Davao artists:
MADOLINE DE LA ROSA, JOSELITO JIMENEZ, DADAI JOAQUIN, JANE RAMOS, BRANDO CEDEÑO, DARYL DESCALLAR and DINKY MUNDA, JR. They will be expressing the Tabula Rasa theme "LEAVING and LIVING" in their signature IMPRESSIONISM AND REALISM genre: twelve paintings and three sculptural pieces. See them at the 1st Mindanao Art Fair Exhibit on October 5 & 6, 2019, The Atrium of GMall of Davao.