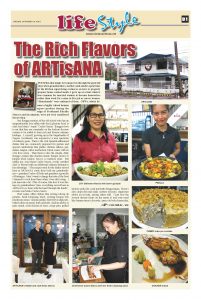 Food has that magic to transport us through the good old days when grandmothers, mothers and aunties spent time in the kitchen supervising cocineras on how to properly prepare home-cooked meals. I grew up at a time when it was common for married women to become housewives rather than work for a nine-to-five job as career women. "Housebands" were unheard of then. OFWs, which became a highly valued human export product during the reign of Ferdinand Edralin Marcos and his minions, were not even considered heroes then.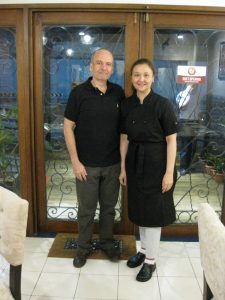 One Ilongga mestiza of the old school who has an unquestionable love affair with food, glorious food, is chef Ana Maria "Annie" Cacho-Garcia. Ilonggos love to eat that they are constantly on the lookout for new cuisine to be added to their rich and diverse culinary heritage. I, myself, growing up in the Sugarlandia of Negros Occidental, was exposed to a nice spectrum of culinary gems. There's the rich Spanish-influenced dishes that are commonly prepared for parties and special celebrations like paella, chicken relleno, galantina, lengua, callos and lechon which comes with its own liver sauce. Then there is also the simple, daily Ilonggo cuisine like chicken inasal, lumpia sariwa or lumpia ubod, kadios, bas-oy, to mention some.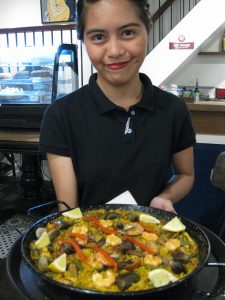 But unlike me, Ana Maria Cacho-Garcia, a truly certified chef, is blessed with an additional culinary heritage to her advantage. "The recipes used for the dishes served here in ARTisANA come from both my grandmothers— grandma Cacho of Iloilo and grandma Agoncillo of Batangas. I don't want to change the taste of the food I learned to cook from them when I was still young. I just innovate a bit. Plus of course, like how it was during my grandmothers' time, everything served here in ARTisANA is done with the heart through the hands," reveals Ana Maria Cacho-Garcia.
Chef Annie offers dishes like tortang talong de patatas, fresh lumpiang ubod, sizzling lengua wth mushroom sauce, various paellas, beef ribeye salpicado, baked callos en pastel, duck adobado, chicken adobo sa gata, inasal, roast chicken al Jerez, crispy pata, grilled hickory pork ribs, roast porchetta binagoongan. There's also crispy fish and chips, seabass al horno, chipirones adobo en su tinta, among others still. I just love the several dessert items on the menu to end your meal like banana turon a la mode, quezo de bola cheesecake, banana walnut cheesecake, cheesecake Ana, buko pie crumble, calamansi merengue pie, among others still.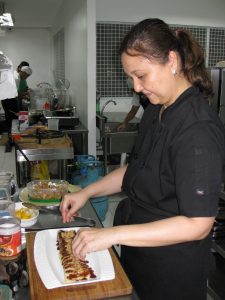 "A popular dish which I would readily recommend is our paella Mariano which is named after my dad who is originally from Iloilo. We created this bagnet paella at home and ever since, we just kept making this especially during our family gatherings. Our callos is also a crowd favorite. But here in ARTisANA we serve our callos differently. Our callos is covered with a puff pastry (like in chicken pastel) and baked for 20 minutes. It is truly worth the wait."
"ARTisANA's cuisine touches on modern Filipino, Spanish and Italian dishes. I try to keep the flavors as clean as possible and I also tweak some ingredients to make the dishes come alive. ARTisANA offers comfort food with a modern twist," informs the chef who has more than two decades of professional experience in restaurant kitchens under her apron.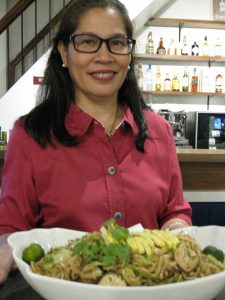 Chef Annie, as she is affectionately called, has the ever ready warm hospitality and personal attention to offer for each diner. Yes, she easily and charmingly caters to individual preferences. Chef Annie's dishes are best described as comforting and homey just like how it was done during your abuelita's time. Dining at ARTisANA is like visiting your grandma's welcoming home for a special meal she prepared for you on a family day.
Thank you, chef Annie Cacho-Garcia, Rafael Garcia, and Joy Gallenero-Garcia, for a lovely evening of ARTisANA cuisine.