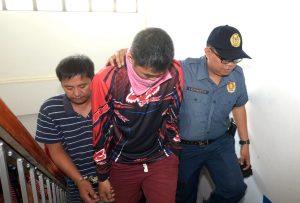 A police sergeant and a brother of a ranking officer were arrested by Talomo operatives in a drug buy-bust in front of the University of Southeastern Philippines (USEP) – main campus in Bo. Obrero, Barangay 18-B, Poblacion District Wednesday evening.
With the arrest, four other police officers were relieved from office, including the suspect's policeman brother and the commander of the Marilog Police Station where the arrested policeman was assigned.
City police director Col. Alexander Tagum, during the press conference yesterday at the Davao City Police Office (DCPO) headquarters, said the arrest of the "traitor" policeman, identified as Staff Sergeant Elcelito Macarandan Colita, a 12-year veteran, is "very shameful."
"We will not tolerate this kind of people," Tagum said. "He has no position in the (police) organization."
The city director said the arrest showed there will be no "holy cow" in the police operations against illegal drugs.
Brig. Gen. Marcelo Morales, the police regional director, said "I am furious and sad… that despite (our) efforts… to guide and mold our police officers to be the best, and yet, this report involving a police officer… is beyond unacceptable."
Colita, 35, of Barangay Sasa in Buhangin District, and Glenn Art Laurel Muring, alias Dodong, 40, of Barangay Buhangin Proper and brother of Police Major Peter John Muring, a former Buhangin Police Station commander, were considered as high-value targets.
While the Philippine Drug Enforcement Agency (PDEA) claimed the two were newly identified drug personalities, the police said both suspects were under surveillance for months. In fact, police said they monitored Muring for three years now as he was previously arrested for the same offense but was able to post bail. Colita's name also cropped up in their previous investigations.
Muring was the intended target of the Talomo Police Station in the operation set in front of the school along Iñigo Street in Bo. Obrero. They were surprised to find out that Colita was conspiring with Muring, acting as the bagman.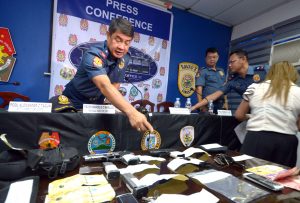 The Talomo Police Station Drug Enforcement Team, led by Major Ronald Lao, conducted the operation in coordination with PDEA, around 8:40 p.m. Wednesday.
Police arrested both suspects after they traded illegal drugs for P1,500. Muring gave the alleged illegal drugs while Colita received the money.
Talomo operatives said they confiscated from Muring eight sachets of suspected shabu (with street value of P10,500), a caliber Ruger LC9 with an inserted magazine loaded with 9mm live ammunition, a mobile phone, P920 and a motorcycle.
Seized from Colita were the government-issued 9mm caliber pistol Pietro Beretta, a magazine, a cellphone, a black sling bag containing his police identification card, the marked money and a motorcycle.
Morales said Colita, aside from the criminal charges, will also be facing administrative case. He was immediately relieved from his post as desk officer of Marilog Police Station.
Morales said he immediately relieved four other police officers following the incident.
Colita's superiors, Marilog Police Station Commander Capt. Merlito Tubog, station executive officer Executive Master Sergeant Rogelio Gaentano, and administrative officer Master Sergeant Rhealyn Caballes were also relieved.
"It's a command responsibility… because they should know the whereabouts of their policemen and their activities," Morales said.
Muring's brother, a police major, was axed as the chief of the DCPO administrative branch. He was transferred to the Regional Police and Holding Accounting unit (RPHAU) in PRO 11 where he will be monitored and will undergo reorientation.
While Major Muring had reminded his brother to stop in the illegal drug activity, Morales said he was still remiss in his job for he failed to take concrete action on his brother's case.
He said officer Muring should have brought his brother to rehabilitation or surrendered it to the police.
Morales rejected claims that Colita is a ninja cop, an officer who recycled seized illegal drugs.
"We cannot consider him as ninja cop because his role during the buy-bust was like a protector of Muring," the police director said. "Muring sold shabu and Colita received the money so they're confederating with each other in the transaction."
Lao, on the other hand, said they monitored Muring for three years as he was arrested for the same offense in a Bunawan checkpoint but was released after posting bail.
In an interview with the suspect, Muring sought forgiveness to his brother.
He pointed an engineer to be behind his illegal activity.