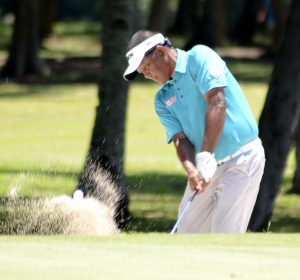 DAVAO – Tony Lascuña slowed down with a 68 but hiked his lead to seven over fellow homegrown talent Ferdie Aunzo, threatening to turn the P3 million ICTSI Apo Golf Invitational into a one-man show at the Apo Golf and Country Club here yesterday.
Lascuña practically pulled away in the last six holes after failing to duplicate his hot backside start Wednesday and settled for a two-birdie, two-bogey game at the front. But just when the rest poised themselves to pounce on his mediocre start, the veteran shotmaker birdied No. 13 for the second straight day then racked up three more in the last four holes, the last from three feet, for a closing 32.
With an 11-under 133 aggregate and with no one able to match his blistering windup, Lascuña posted one of the biggest leads after 36 holes in any PGT or PGT Asia championship and threatened to better Juvic Pagunsan's eight-shot romp over him in the ICTSI Riviera Classic last August.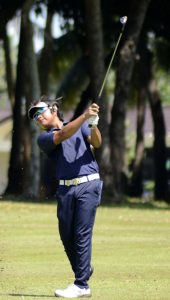 "I just played my usual game and didn't mind if there's somebody making a charge. But my putting has been clicking the past two weeks," said Lascuña, his confidence boosted by a triumphant campaign in the Philippine Golf Tour Asia leg in Taiwan last week that snapped a two-year slump.
"Actually, I'm a bit tired playing seven straight tournaments. I need to rest and re-charge," added the 48-year-old veteran shotmaker, who nevertheless opted to downplay his chances for another victory.
"There are still two rounds left and so many players are capable of shooting low rounds here," said Lascuña, who birdied Nos. 1 and 8 but failed to go up-and-down on Nos. 4 and 6 to make the turn at 36.
Aunzo birdied two of the last four for a 69 as he took the challenger's role at 140 while Ira Alido rebounded from a wobbly 74 Wednesday with the day's best five-under 67, spiked by an eagle on the par-5 18th and capped by three birdies in his closing frontside stint.
The young shotmaker, a consistent Top 5 finisher in the PGT and PGTA this year, pooled a 141 for joint third at 141 with Davaoeño Ramil Bisera and Dutch Guido Van der Valk, winner of the kickoff leg of the 10th season of PGT in Cebu last June, who shot identical 70s and Albin Engino, who fumbled with a 73.
Gerald Rosales, who turned in impressive 68 in the first round, failed to recover from a frontside 39, hitting just one birdie at the back for a 74 to drop to a share of seventh at 142 with Rufino Bayron, another local top gun who turned in a second 71.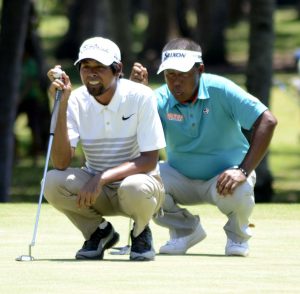 Jhonnel Ababa, winner of the last PGT leg at Del Monte two weeks ago, also stumbled with a 74 after a 70 and fell to 144 with fellow Davaoeño Mhark Fernando (72), Japanese Takahashi Keisuke (69) and Del Monte's Magno Arancon Jr. (72) behind the 143 group composed of Kuresh Samanodi (69), Art Arbole (71), Paul Echavez (71), Nilo Salahog (72) and amateur Elee Bisear (73).
Forty four players made it to the final 36 holes at 149, including last year's champion and reigning PGT Order of Merit champion Jobim Carlos and Del Monte's Johvanie Abaño, who both fired 71s, American Lexus Keoninh, Lucio Osabel and Arnold Villacencio, who carded identical 75s, and Fil-Am Sean Talmadge, who skied to a 77 after a 72.
Among those who missed the cut in the third of four legs making up the Mindanao swing of the PGT are slumping Jay Bayron (75-150) and fellow Davaoeño Anthony Fernando (75-150), former PGT Asia leg winner James Ryan Lam (76-154).
American Tarik Can, winner of the last PGT Asia leg at Wack Wack last month, retired with a hand injury after groping for a 78 in the first round of the event backed by Custom Clubmakers, Meralco, Champion, Summit Mineral Water, K&G Golf Apparel, BDO, Sharp, KZG, PLDT and M.Y. Shokai Technology.