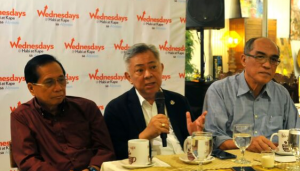 An exhibit on History and Memorabilia is scheduled Oct. 5-6 at the Holy Cross Davao College Hall.
The said exhibit aims to show gratitude and give honor to the Canadian missionaries who were responsible for the development of the education and health institutions in Mindanao, particularly in Davao City.
Leonilo Claudio, president of the Canadian Chamber of Commerce of the Philippines-Davao, invited
Davaoenos to witness the exhibition since it's a free admission.
"It is going to be a whole day at Holy Cross Davao, several booths will be set up there by our brothers and sisters, we have also embassy officials from Canada coming in and some LGU officials. Then the testimonial honor and dinner by six in the evening,''he said during the press conference at Habi at Kape in Abreeza Mall Davao yesterday.
Aside from Claudio, the organizing committee are former presidential peace adviser and Canadian Chamber governor Jesus Dureza and Rey Sorongon
Claudio also encouraged HCDC administrators to allocate a section in their library to display the contributions of the PME priests. Junainah Malaco and Decerie Racoma/UM Intern