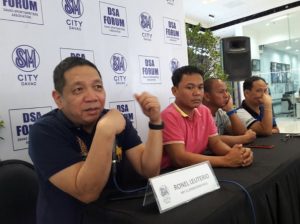 Davao City – Some eighteen teams will compete in the coming Collegiate Sponsors League (CSL) set to tip off on October 13 at the Davao City Recreation Center (Almendras gym).
Jose Maria Colleges, Holy Cross of Davao College, University of Mindanao and Ateneo de Davao University will be among the collegiate squads which will be competing next to teams from Tagum and Digos City.
Teams will play in the Bracket format elimination round with the top eight qualifiers moving on to the quarterfinals to the semifinals and onto the finals.
"The top teams in each bracket will have the homecourt advantage going to the quarterfinals," said Samahang Basketbol ng Pilipinas (SBP) Region XI operations head Ronnel Leuterio on Thursday's (October 3) Davao Sportswriters Association (DSA) Forum at the SM City Davao adding that they to hold games on school campuses during the quarterfinals.
The Collegiate Sponsors League (CSL) will be the elimination round for the 2019-2020 Philippine Collegiate Champions League (PCCL) which will have the Regional Finals, the Mindanao Finals and probably the National Finals all to be played here in Davao.
The Visayas Region will also have their elimination round in which the champion team along with the Mindanao champion will get to play in the National Finals in 2020 facing the champion team either from the NCAA and the UAAP.