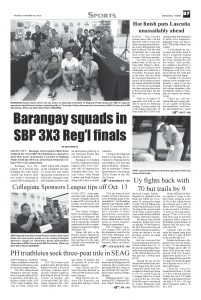 Davao City – Barangay based squads which shone bright in the recent SBP 3X3 elimination round get to show their wares on Saturday's (October 5) Regional Finals which tips off 8 a.m. at the Rizal Memorial Colleges Petro Gazz gymnasium.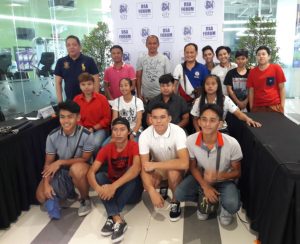 Barangay 10-A, Barangay 76-A Bucana and Barangay Sto. Nino which earned top honors after last week's elimination round will be among the 32 teams which will compete in the scheduled two-day 18 years-old and under age-group tournament in which the champion team for both girls and boys earn an all-expense paid trip to the National Finals this October 28 and 29.
Barangay 10-A backed by Mac Construction which topped with boys division will be bannered by Joemarie dela Cruz, Vincent Troyo, John Renan Limbay and Mark Baguio along with coach Armando Amancio.
"Going to the Regional Final is a big thing for us. Our keys to winning will be our isolation, low post and pick n roll plays," Amancio said in yesterday's Davao Sportswriters Association (DSA) Forum at the SM City Davao.
"This program of the SBP for our out of school youth who love to play basketball is an avenue for our boys and girls to showcase their skills," he added.
Barangay 76-A Bucana which topped the girls division will parade Leonella Javier, Maryjane Ortega, Joanne Arab, Chady Bucao and coach Dennis Bague.
"We are going to give it our all. Teamwork and defense will be our key," said coach Bague.
Also seeing action will be girls division first runner-up Barangay Sto. Nino having Ananielliza Madera, Angel Jean Quilly, Jessica Cabiling and Aina Balasabas with coach Jun Lumayag.
These teams will compete next to squads from Surigao, Mati, Davao del Sur, Davao Occidental and Davao City.
"We are giving these teams from the barangay level to compete against squads from these cities having players from the public and private schools. It is something for our barangay teams to look forward every year as they continue to hon their skills for a chance to compete in the national level," said Samahang Basketbol ng Pilipinas (SBP) Region XI operations head Ronnel Leuterio.
It can be best remembered when Davao City's Cabantian National High School capped the SBP 3X3 Girls National championship only two year's back when the SBP-XI started its grassroots program for the public schools and barangay out of school youth.