This year marks the centennial celebration of Philippine Cinema. The whole country is taking pride in showcasing our classic films here and abroad. It is a significant time also for us Davaoeno to look back how our filmmaking started and evolve through the films made by our very own filmmakers.
Thus, a series of talks and screenings are essential in educating our youth of today. SANDAAN: THE DAVAO FILMS RETROSPECTIVE is a 3-day educational event that will show the pioneering films produced by Davaoeno filmmakers. To give a touch of national perspective, our National Artist for Film and the Father of Independent Cinema, Mr. Kidlat Tahimik will showcase his latest documentary, Lakbayan.
Organizers: Jarell Serencio – Man Overboard Productions
Rafael Dax Canedo – Mindanao Film and Television Development Foundation Inc.
Bagane Fiola – Pasalidahay
Derf Maiz – Holy Cross of Davao College
Guest Speakers: Kidlat Tahimik – National Artist for Film
Dax Canedo – Mindanao Film and Television Development Inc.
Jay Rosas – Pasalidahay
Bagane Fiola – Pasalidahay
Guest Filmmakers:
McRobert Nacario – Cinematographer (Ang Paglalakbay sa Gabing Madilim
Mark Limbaga – Cinematographer (Huling Balyan ng Buhi & Baboy Halas)
John Paul Seniel – Director (Latus)
Arbi Barbarona – Director/Cinematographer (Tu Pug Imatuy, Ang Paglalakbay ng mga Bituin sa Gabing Madilim)
Buggy Ampalayo – Production Designer (Ang Paglalakbay ng mga Bituin sa Gabing Madilim & Tu Pug Imatuy
Raphael Meting – Cinematographer (Baboy Halas)
Carl Mabanag – Producer/Asst. Director – Redempsyon (Ozamis)
Rosette Caoile – Director – Chase (Zamboanga)
Juvy Ann Clarito – Director – Meet Up – (Compostela Valley)
James Villegas – Director – Midnight Epiphany (Davao)
Speakers profile
Dax Cañedo is one of the founders of the Guerrilla Filmmaking Workshop and Festival that gave birth to the longest running independent film festival in Mindanao—the Mindanao Film Festival. He is the founder and present chair of the Mindanao Film and Television Development Foundation, Inc. and the owner of Alchemy of Vision and Light, the production company behind the cable channel SouthSpot Entertainment Network.
Jay Rosas is a graduate from Ateneo de Davao University with a Bachelor of Arts Degree in Mass Communication. He began as a Contributing Film Reviewer for the Film Development Council of the Philippines Magazine and Edge Davao. He was a jury of the Mindanao Film Festival for two consecutive years. He deepened his film criticism career by being a fellow at the Yamagata Film Criticism Workshop in Yamagata, Japan last October 2015.
He then became a facilitator and festival staff of the Film Criticism Workshop of the 4th Salamindanaw Asian Film Festival in GenSan last November 2016. He also participated in the Oral History Archiving Workshop of the 21st Southeast Asian Pacific Audiovisual Archiving Conference in Manila last April. Now, he is a co-convenor and film programmer of the Pasalidahay Film Screening Series. He also contributes regularly to the Mindanao Times and The New Durian Cinema online film journal.
Bagane Fiola is a filmmaker from Mindanao, in southern Philippines. His second feature film Baboy Halas (Wailings in the Forest) was selected under the Bright Future non-competition section of the 47th International Film Festival Rotterdam in 2017. It won the NETPAC Jury Price award during its World Premiere at the QCinema International Film Festival held in Manila Philippines in 2016. Recently, the film was given a Special Newcomer Award at the Internationales Film Festival Mannheim-Heidelberg in Germany in October 2017. Fiola is the founder and festival director of the Ngilngig Asian Fantastic Film Festival Davao, the first fantastic film festival of its kind in the Philippines. His previous works include the film Sonata Maria, which won Best First Film at the Young Critics Circle of the Philippines 2014, and several short films, which have been exhibited in various regional film festivals.
Eric de Guia (born October 3, 1942 in Baguio City, Philippines), better known as Kidlat Tahimik (a Tagalog translation of "silent lightning"), is a film director, writer and actor whose films are commonly associated with the Third Cinema movement through their critiques of neocolonialism. For his contributions to the development of Philippine independent cinema, he was recognized in 2018 as a National Artist of the Philippines for Film – a conferment which represents the Philippine state's highest recognition for artists. One of the most prominent names in the Filipino film industry, he has garnered various accolades locally and internationally, including a Plaridelhonorarium for Independent Cinema. He is dubbed by fellow filmmakers and critics as the "Father of Philippine Independent Cinema".
In recent years, Tahimik has become a noted installation artist with his works exhibited in various public spaces in the Philippines
Arnel 'Arbi' Barbarona is a Davao-born award-winning cinematographer and director. His debut feature-length film, Tu Pug Imatuy (The Right to Kill) premiered at Sinag Maynila Film Festival 2017 and won awards as Best Film, Best Director and Best Cinematography. The film also competed for Asian Future at Tokyo International Film Festival 2017 and traveled to other international film festivals. Among his achievements are Best Directing and Best Picture, Grand Jury Prize winner for Tu Pug Imatuy (The Right to Kill) in 2018 FAMAS Award, Best Direction at Gawad Urian 2018, Best Cinematography for Alienasyon in the 13th Gawad Tanglaw 2014, He also received Best Achievement in Film Editing and Sound and Aural Orchestration for Teng Mangansakan's Qiyamah from the Young Critics Circle Award 2013.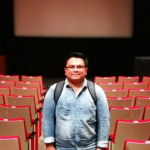 Jay is a film critic and film programmer for Pasalidahay, a film collective in Davao composed of film enthusiasts and filmmakers advocating for Filipino film appreciation.