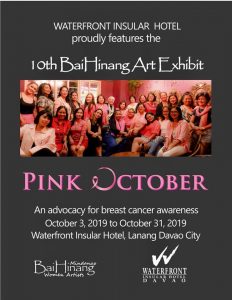 Satellite exhibits have been set up in time for the Mindanao Art Fair, Exhibit, and Conference scheduled on October 4-6 at the Gaisano Mall of Davao Atrium.
Opening on October 1, 2019 ahead of the fair is "Lupa" at the Art Portal Gallery for Contemporary Art featuring Art Bongawan, MC Hope Loayon, Jeve Villagonzalo, Kim Vale, Vyankka Balasabas, and Shaira Secuya. Loayon and and Bongawan are two of the artists seen in The River Flows North at the NCCA Gallery.
"Lupa imagines the various significations on land in relation to home, domain, property, territory, and the cosmos. Beyond the geological properties of physical earth, lupa alludes to issues on property, domain, or territory – the terrains traversed and occupied, with specific boundaries and borders. In the South, individuals, families, and communities give importance to land because personal and collective memories are embedded in it," curator Prof. Laya Boquiren wrote.
The exhibit runs till October 15 at Paseo de Legaspi, 115 Pelayo Street.
On October 3 at the Waterfront Insular Hotel, a big group of women artists are showing their works in support of breast cancer awareness.
BaiHinang's 10th Art Exhibit runs till October 31, 2019. Part of the proceeds will benefit the Ribbon of Hope Cancer Care Advocacy of the Davao Doctors Hospital.
Participating artists are: Anne Worsley, Maria Amor delos Santos, Charlmaila M. Macadawan, Dadai Joaquin, Elenita C. Dumlao, Eva Estrada Aranas-Angel, Fides Baddongon, Imelda Pangan, Jane Ramos, Jing C. Rabat, Krishna Mie Ceniza Zabate, Jessica Cordova,
Jearvy R. Remollo Lanohan, Jeffrey Wee, Ma. Aimee Suarez, Madoline dela Rosa, Amanda Echevarria, Maru, Mean Tan Guinoo, Nina Custodio, Ritzel Polinar, Rizza Arales, Trixie B. Borbon, Miyen Lim, Cherli Wen Ban Ibanez, Tanya Gaisano Lee, and Jimmelyn Olbinar.
"Bai" is the indigenous word for woman, while "Hinang" is a Davaoeno term which connotes "to create", "to build" or "to work". Put them together and you have a group of women, creators, builders and workers.
Meanwhile, the senior high school student-run Datu Bago Art Gallery Café at the Davao City National High School will be hosting the VIP guests of Mindanao Art in the morning of October 4, where the guests will be able to partake the food prepared by Tech-Voc students while appreciating the art created by the Arts and Design students. Datu Bago Art Gallery Café is a newly repurposed structure at the DCNHS campus intended to serve as a laboratory for senior high students taking up Arts and Design, Tech-Voc, and Accounting and Business Management tracks.
The Datu Bago Gallery exhibit opens on October 1 and runs until October 31.
The Philippine Women's College of Davao Senior High School Visual Arts Group meanwhile stages their annual exhibit on October 3-19 at the Morning Light Gallery and Art Shop. Featured artists are: JL delos Santos, Aljon de Guzman, Clark Uyanguren, Isay Pascua, Nic Estimada, Levs Bandiola, Miggy Martin, Han Lee, Dan Papasin, Sean Canonigo, Dudez Unad, and Wawa Porras.
Other satellite exhibits and dates are:
Living and Leaving featuring the Gama Artist Group by Tabula Rasa at the Felcris Centrale from October 2-15.
Isahan at Dalawahan theatrical play on all weekends of October at the Morning Light Gallery and Art Shop.
Putong Hibla Kultura Filipina at the Mindanao Folk Arts Museum at the Philippine Women's College of Davao from October 4-31.