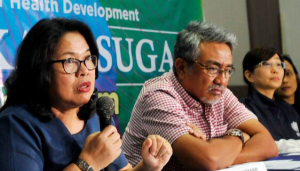 The Department of Health (DOH) targets 575,845 children, aged 0-59 months, in the region as part of its massive polio immunization campaign amid the presence of poliovirus in Davao River.
In a press briefing at the Park Inn by Radisson Davao yesterday, Health Assistant Secretary Dr. Abdullah Dumama, Jr., said the World Health Organization (WHO) and the United Nations Children's Fund (UNICEF) signified their commitment in the effort towards global polio eradication.
Dumama said they are eyeing for a 95% coverage or higher for the said massive vaccination.
In the city, there are 186,869 children eyed to be covered in the immunization.
DOH Davao Regional Director Dr. Anabelle Yumang said the first round of the polio vaccination is on Oct. 14-27 in the city and Davao del Sur.
Yumang said they will target every children five years old and below regardless of their immunization status.
"Polio is an infectious disease that can spread rapidly and can cause paralysis," Dumama told reporters. "In rare conditions, it can be fatal."
Dumama there is no cure for polio and "it can only be prevented through multiple doses of polio vaccine that have long been proven safe and effective."
The second round is set on Nov. 25-Dec. 7 and the third round is set on Jan. 6-18, 2020, which will cover the rest of Davao Region and the other regions in Mindanao.
Dr. Carla Orozco, a health specialist of UNICEF, said 7,847,363 doses of Monovalent oral polio vaccine (MOPV) type two is set to arrive to the country on Friday or early next week.
Orozco said the MOPV is not yet available to any part of the world because it is not used for routine immunizations.
Yumang said there is enough vaccine to cover their target. The vaccines provided are free of charge from the UNICEF.
"We will not be worrying for the vaccines to be used for this campaign," said Yumang.
With the multiple rounds of polio immunization, Dumama said the DOH will shell out P213 million for mobilization and some other costs.
The health official said they will closely coordinate with the barangay officials to ensure that parents and guardians will allow their children of the said age bracket to be covered by the immunization.
The DOH will conduct door-to-door vaccinations and Yumang said they are eyeing to have fixed locations such as in malls or in the City Hall.