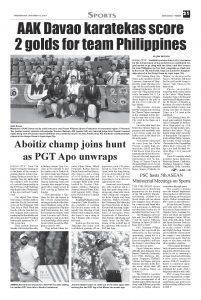 Davao City – Tarik Can hopes to bring his winning act to the home of the country's premier players as the power-hitting American braces for a grueling four-day battle with the country's best in pursuit of a second championship in the ICTSI Apo Golf Challenge which gets today (Wednesday) at the Apo Golf and Country Club.
Can edged Thai NIrun Sae-Ueng in sudden death to snare the Aboitiz Invitational crown of the Philippine Golf Tour Asia at Wack Wack last month with the bearded former Augusta State mainstay beefing up the formidable cast all coming into the P3 million tournament sponsored by ICTSI in top form.
They include Reymon Jaraula, who bucked the odds, including veteran Tony Lascuña in the playoff to nail his maiden win at Pueblo de Oro three weeks ago; Jhonnel Ababa, who dominated the ICTSI Del Monte Championship the following week; and Lascuña, who snapped a long spell with a tough victory in PGT Asia leg in Taiwan last Sunday.
That guarantees a fiery chase for first day honors in the 72-hole championship serving as the third of the four-stage Mindanao swing of the circuit organized by Pilipinas Golf Tournaments, Inc. with the homegrown talents, aside from Lascuña and Ababa, also raring to cash in on their local knowledge of the quaint layout which hosted the Philippine Open in 1995.
They include Elmer Salvador, Elmer Saban, Mhark Fernando, Rufino Bayron, Ferdie Aunzo and Jay Bayron, who hopes to end a string of so-so finishes here and abroad with a strong start and a stronger finish in the event backed by Custom Clubmakers, Meralco, Champion, Summit Mineral Water, K&G Golf Apparel, BDO, Sharp, KZG, PLDT and M.Y. Shokai Technology.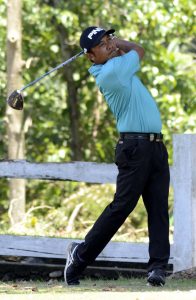 Reigning Philippine Open champion Clyde Mondilla is also confident of crowding the fancied names with an equally fine showing at Del Monte while young Ira Alido also hopes to cap a string of Top 5 finishes with a victory this week.
Rookie pro Fil-Am Sean Talmadge also brims with confidence coming off an impressive joint 17th place finish in Nan Pao TPGA Open, with the long-hitting 27-year-old product of San Jose State U in California expecting to be in the mix right from the start.
American Lexus Keoninh also seeks to put an end to a long title quest along with a strong start, along with Aussie Fidel Concepcion, compatriots Riley Keagle and Greg Gonzalez, Makoto Iwasaki, Ryo Nishimura, Kei Matsuoka and Taisei Mochita of Japan, Korean Park Jun Sung, Argentina's Emilio Parodi, Rafael Parra of Venezuela, Peter Stojanovski of Macedonia, Thai Pachara Sakulyong and Dutch Guido Van der Valk, winner of the kickoff leg of the milestone 10th season of PGT last June.