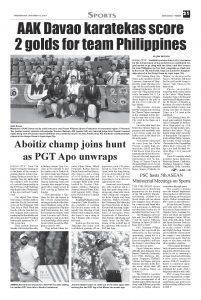 Davao City – Youthful karatekas from AAK (Association for the Advancement of Karatedo) Davao contributed two gold medals to go along with two silvers and four bronzes for team Philippines to close their campaign on a high note in the recent 7th Asia Pacific Goju Kai Karatedo Championships played at the Hoops Dome in Lapu-Lapu City.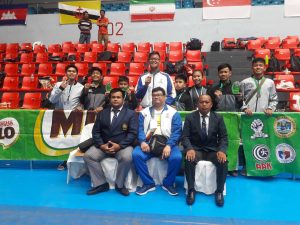 2019 Batang Pinoy National gold medalist Robert Lawrence Avancena of Shepherd My Lamb Christian College led the gold medal haul winning it in the boys 12 to 13 years-old -55kgs kumite event while teammate Jet S. Lu of Rizal Memorial Colleges shone bright for the gold in the boys 10-11 years-old -45 kgs. kumite.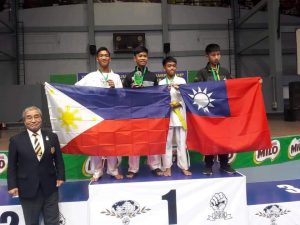 5kgs kumite. Avacena had his winning ways beating his Chinese Taipei counterpart in the semifinals before having his way next to his Cebu City rival in the finals on a 7-1 count.
Lu on the other hand, also bested his Chinese Taipei opponent in the semifinals onto a 1-0 victory count over his Indian rival in the finals for the gold medal.
AAK Davao's silver medals came from Ian Carlos Pascual, a senior high student from AISAT and John Paul Ponce from Precious International School of Davao. Pascual who had impressive performances over Yu Kai-Cheng of Chinese Taipei in the quarterfinals on a 6-2 score and team Philippines member Renzo Tomas of Manila via "hantei" or decision in the Juniors -68 kumite, fell short for the gold medal losing to Japan's Yuki Okusa in the final round.
Ponce, meanwhile wound-up with a silver medal in the Cadets -70kgs kumite losing his chances for the gold next to team Philippines member EJ Navarro of Manila in the finals. His road to the final round i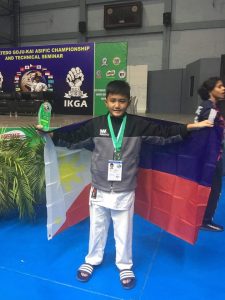 ncluded a victory over Chang Che-Hao of Chinese Taipei on a 7-3 count in the semifinals.
2019 Batang Pinoy National gold medalist Stephen James Cartagena of Brokenshire High piled up AAK Davao's bronze medal contribution in the Cadets +70 kgs. kumite along with University of Immaculate Conception's troika ofJohn Philip Cagandahan (Cadets -63 kgs. kumite), Christopher John Cagandahan (Boys 12-13 years-old +55 kgs.) and Seth Michael Navarro (Boys 12-13 years-old -50 kgs.)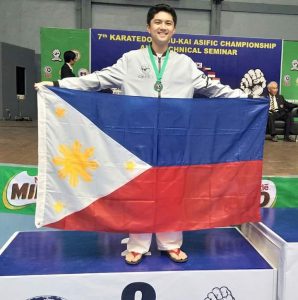 Some 23 countries which included Japan, Indonesia, Malaysia, Brunei, Cambodia, Thailand, Singapore, Nepal, Bangladesh, India, Australia, China, Chinese Taipei, Laos and Philippines which total 600 and more karatekas took part in the tournament which was also graced by Japanese IKGA head Saiko Shihan Goshi Yamaguchi of IKGA Philippines and Karate Pilipinas Sports Federation Incorporated President Richard Anthony Lim.
"We were happy to field nine karatekas from Davao and luckily eight of them won medals," said AAK Davao chief instructor and Karate Pilipinas Sports Federation Incorporated region XI director Rommel Tan.
Joining Tan were national referee/judge Teodoro Belisario RN and national judge Ariel Naputol. Both Belisario and Naputol were able to officiate in the said international event.
"It is the first time that we have Dabawenyos present to officiate an international event. We are proud of them," Tan added.
AAK Davao would like to thank their supporters led by the AAK Davao parents – Bobby and Lotes Avancena, Grace and Racky Lu, Sharon and Richard Lu, Emeliza Cagandahan, Ceth and Michael Navarro, Jack and Emery Neble and Maethel and Edgar Ponce. Special thanks also to Dexter So, president of the Davao City Sports Council Incorporated, Jerson Tamayo, Chris Campomanes, Jay and Joanne Ramirez and Miguel Ramirez of Mahugany Security Agency.