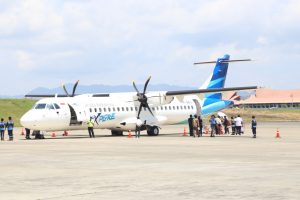 The Indonesia national flag carrier, Garuda Indonesia, started flying from Manado, North Sulawesi to Davao on Sept. 27. This new service is a part of the airline's its international network development program, especially in Southeast Asia – as well as the airline's strong commitment support the government in enhancing the future economic and tourism partnership between Philippines and Indonesia.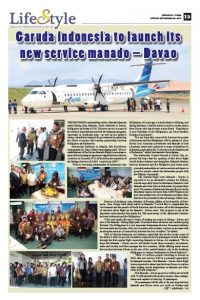 Indonesian Embassy in Manila, His Excellency Ambassador Dr. Sinyo Harry Sarundajang said, "The re-establishment of the Davao-Manado flights is an enhancement of the air transport agreement signed between the two countries on 24 March 1972, followed by the expansion of air linkages between B.I.M.P countries in 2007".
"Prior to becoming Ambassador of Indonesia to the Philippines, 30 years ago I was the Mayor of Bitung, and during that time, I had the honor to meet a certain mayor from Davao who has become a true friend. That Mayor is now President of the Philippines, my blood brother, Rodrigo Roa Duterte".
"It is my hope that connectivity between the people of Indonesia and the Philippines will be enhanced since Davao is an economic powerhouse and Manado is both a business center and a gateway to many destinations in Indonesia, particularly the 17 provinces in the Eastern part of Indonesia" added Ambassador Sarundajang.
The Indonesian Consul General in Davao City expressed his hope that the opening of this direct flight would further enhance and strengthen bilateral relations between Indonesia and the Philippines and create more potential partnerships in various sectors and improve people to people contact the Indonesian people with the Filipino community.
The Garuda flight route Manado-Davao is expected to be an alternative solution for Filipino tourists, especially from the Mindanao Islands to visit Manado and other cities in Indonesia. At present there are 8,745 persons of Indonesia descent who live in the Mindanao region and more than 3,000 Filipinos and their descendants who live in Manado and other cities that have the potential to take advantage of this route.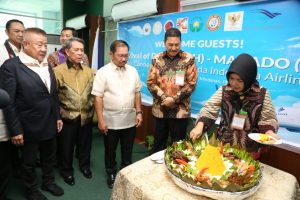 Director of Southeast Asia, Ministry of Foreign Affairs of the Republic of Indonesia, Hon. Denny Abdi stated earlier in Manado "I would like to congratulate the Government and the people of North Sulawesi, and of course, all of this inauguration of Garuda's direct flight on the Manado – Davao route. This progress is one of the important achievements that marks the 70th anniversary of the diplomatic relations between Indonesia and the Philippines".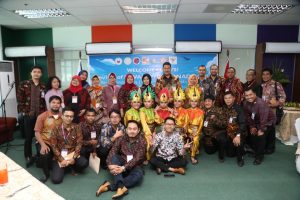 "This year marks the active return of trading sea routes in Bitung – Davao and also in the Manado – Bitung flight path. Sometimes these advances can continue going forward. "The Philippines is a very important Indonesian director. Economic relations between trade and tourism of the two countries will certainly continue to increase with an adequate amount of connectivity between the two countries" he added.
CEO of Garuda Indonesia, Ari Askhara, stated that this service is also a part of the airline's effort to provide seamless connectivity for passengers in both countries through the first regular flight connecting Manado to Davao. Ari explained, "We do hope this Manado – Davao service will further boost those economic, investment, trade and tourism activities amongst the two countries, whilst offering easier access for travelers between Davao as the one of the central business city in the Southern Philippines to various destinations in North Sulawesi".
"With 2,3 million people traveling to Davao in 2018, this new service will be a potential opportunity for Manado tourism. This Manado – Davao direct flight is also expected to attract tourists from Davao to explore other leading tourist destinations in Manado and other cities in North Sulawesi".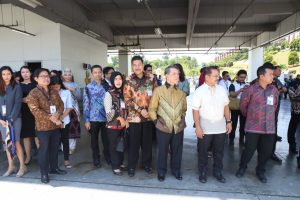 This Manado – Davao pp service will be served with ATR 72-600 aircraft with an all-economy-class configuration and capable of carrying 70 passengers.
The passengers will be able to fly non-stop between
Manado and Davao twice per week on Fridays and Mondays. The flight will depart from Sam Ratulangi International Airport, Manado (GA7401) at 10.30 LT and arrive in Francisco Bangoy International Airport, Davao at 12.30 LT. Meanwhile, the return flight from Francisco Bangoy International Airport, Davao (GA 7402) will leave at 13.15 LT and arrive in Sam Ratulangi International Airport, Manado at 15.10 LT.