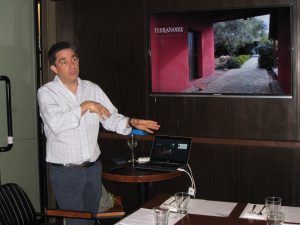 It was a fine Wednesday evening, if not for the horrible traffic along Bajada, when businessman Joey Mempin and his son-in-law, Gabriel H. Tiamson, invited Davao's respected wine-loving entrepreneurs led by no less than the University of Mindanao President/CEO Dr. Guillermo P.Torres for a wine tasting of the best of Chile's wines—TerraNoble Carmenere. The venue was at chef Anton Abad's Olive Bistro.
"To be noble is a virtue that exists intuitively," was TerraNoble's Asia/America Export Manager Gonzalo Badilla's opening sentence which had the select guests listening attentively. "To be admired, respected, trusted… Chile, our land, is humble and honest…Our grapevines are grown on our soils, exploring the most optimal terroirs to suit specific varieties; and crafted into wines that express nature in flavor, texture, and aroma. The wines are envisaged to reflect the distinct, yet subtle touches of the Andes and the Pacific Ocean."
As narrated by Gonzalo, TerraNoble was founded in 1993 by Don Jorge Elgueta with a vision to make good wines in the wine-producing region of the Maule Valley of Chile. At the time, the region's wine-growing efforts were focused on yielding quantity rather than quality wines. "The name TerraNoble recognizes the unassuming majesty of the soils of the valley, and its ability to gift excellent wines," expressed Gonzalo. By 1994, TerraNoble established itself as a boutique vineyard specializing in the Merlot variety.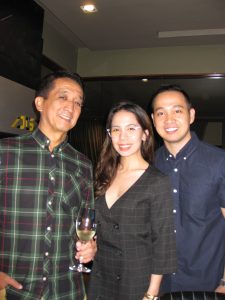 The distinctive Chilean Merlot was later identified as Carmenere from a rare grape variety once native to France. From then on, Carmenere's great significance to Chilean wine-making became its most emblematic variety.
CIMEM Consumer Distributor, Inc. headed by Joey Mempin is the official distributor of TerraNoble wines in Davao City. After Gonzalo's introduction of the wine brand, guests were given the opportunity to taste TerraNoble Reserva Carmenere, Reserva Especial Carmenere, and Gran Reserva Carmenere.
Reserva range offers fruity wines of fine complexity, good body, and structure. This wine is kept in French oak barrels for six months. The Reserva Especial is kept in French oak barrels for 10-12 months of aging. The wine does express the full potential of the fruit kept in balance with the aging process. The Gran Reserva is the essence of the Chilean TerraNoble style according to Gonzalo. This is an elegant wine of great body and color, refined complexity and solid structure. Yes, the Gran Reserva is TerraNoble's classy classic.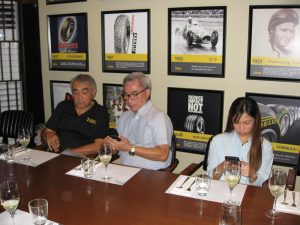 With Chile's premium TerraNoble wines matched with chef Anton Abad's delicious food, guests in no time became spirited with their tongues loosened. The witty Icky Villanueva was such a revelation as a man of great humor especially with his subtle tirades on Jason Huang's misadventures in the past. Art Millan was quite informative regarding Davao's landowners' passionately hated increases in real estate taxes which have since doubled and even tripled.
Well, Willie P. Torres and Jason Huang expressed their love and passion for acquiring expensive cars that you and I could only dream of riding. Jason Huang's recollection of living dangerously in Davao's killing fields of the past was truly enlightening. You do get to appreciate President Digong for his endeavor in bringing peace to Davao according to Jason's accounts. Jigs Calixto, who was with his quiet wife, Irene, preferred talking about golf and and the gulp that comes after playing.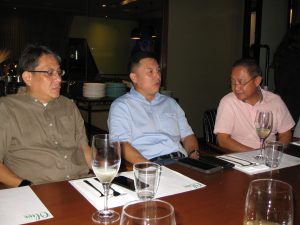 Pretty millennial Samantha Sasin, who was quite adept at drinking, eating, and messaging on her cellular phone all at the same time, was concerned about her driver who was fired by her parents for a very personal reason I couldn't reveal. Seda's F&B Manager Jules Melencion promoted his hotel's coming October Fest. Joey Mempin was so fired up about business that he invited me ahead of time for the opening of his Chowking franchise beside his Shell Station franchise.
Barrio Bistro's Bong Canete remained quiet all throughout the evening observing and surely, absorbing all matters discussed. Yes, there were issues tackled like the La Salle-Ateneo rivalry and even Mati as a supposedly USA-proclaimed ideal rocket ship launching site-to-be. All these happening while the charming Gabriel H. Tiamson was going around distributing TerraNoble order slips for the guests to fill up. Naturally, Gabby was ably assisted by his equally charming wife, Ana Isabella Mempin-Tiamson. Now, who could refuse these two for advance orders of bottles of TerraNoble wines?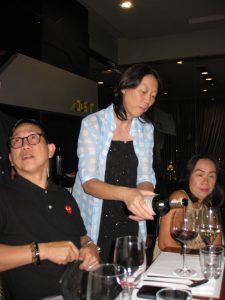 As Gonzalo said, wine should be consumed in moderation as he revealed, "We at TerraNoble encourage responsible consumption to enjoy it in a full and hearty way. As such, we joined 'Wine in Moderation,' an international program by the wine industry which seeks to inspire people to follow a healthy and beneficial lifestyle, thus helping to reduce the harmful effects associated with alcohol abuse." Honestly, I didn't know there was such an existing program.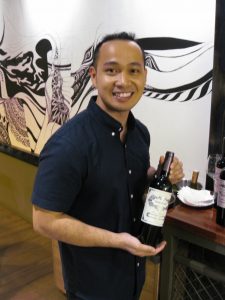 In the country, it's Binondo which has the biggest market for TerraNoble wines. Globally, it's China, but of course.
Thank you, Joey Mempin and Gabriel and Isabella Tiamson for personally inviting me. What an evening for enjoying premium Chilean wine in the good company of Davao's top entrepreneurs.