The Home Development Mutual Fund, better known as Pag-ibig Fund, signed a memorandum of understanding with the Ateneo de Davao University for the setting up of subdivisioin for the employees of the latter.
The MOU is for the setting up of the AdDU Homes Xavierville project in partnership with the Realty Investments Inc. (RII).
The project, which will build 135 units with 14 open lots is available to employees of the Jesuit university through the Fund's Affordable Housing Loan Program, will allow the employees to pay the units for P480,000 each even when the appraised value is P644,090 as each has a floor area of 24 square meters for a total area of 48 square meters. The project, located in Catalunan Grande, has a 3% annual interest rate.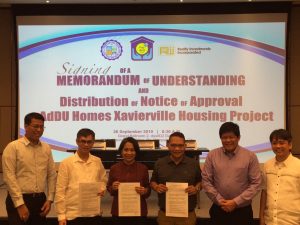 "This housing project is part of our Countryside Housing Initiative or CHI which brings together institution both from the government and private sectors in creating housing projects. Particularly for the underserved," said Marilene Acosta, deputy chief executive officer for Home Lending Operations at the Fund.
Acosta added that the initiative is part of the Building Adequate, Livable, Affordable and Inclusive (BALAI) Filipino Communities Program of the government's housing sector, and supports the call of the President Duterte, providing decent shelter for every Filipino worker.
According to Fermin Sta. Teresa, the Fund's senior vice president for Business Development Sector, assured those who will benefit from the project that it is built according to the standards of the agency.
Sta. Teresa said that before developer is paid, the agency experts will check if the units are built according to specifications set for it.