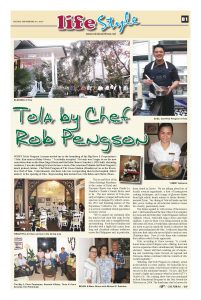 When Tricie Pengson-Arcenas invited me to the launching of the Big Hero 5 Corporation's "Tola: Kan-anan sa Balay Oboza, " I excitedly accepted. Not only was I eager to see the new renovation done on tito Rene Inigo Oboza and tita Delia Oboza-Gonzalez's 1929-built, charming residence, I was also looking forward to have a taste of the renowned Manila chef Rob Pengson's much praised cuisine. Chef Rob Pengson of The Goose Station (Manila) serves as the Executive Chef of Tola. Unfortunately, tito Rene who was recuperating then in the hospital, didn't make it to the opening of Tola. Representing him instead were tita Belen and Marie Oboza.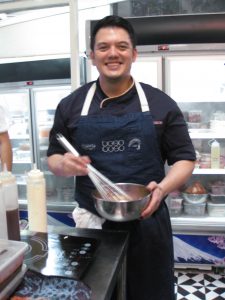 The second floor of the Oboza Heritage Residence at the corner of Rizal and Ponciano Streets was where Claude Le Neindre's Claude's French Bistro used to be. The new interior of Tola presently is brighter, younger and looks more spacious as designed by Isabel Lozano, the CEO and founding partner of The Experience Collective, Inc. Her office is a service consultant which specializes in luxury service.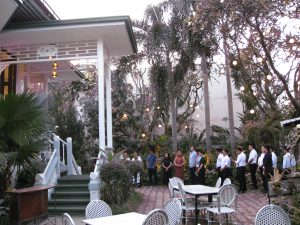 "We've named our restaurant after the much loved clear fish soup for the sole reason that tola is straightforward, and satisfying. Food that is familiar and flavorful with a depth that comes from long and cherished culinary traditions across the Philippines and, in particular, those found in Davao. We are talking about lots of locally sourced ingredients, a host of homegrown cooking techniques, and a range of glorious dishes from light salads, hearty entrees to divine desserts," narrated Tricie. Yes, dining at Tola will make one feel like you're visiting an old schooled relative's home for a hearty, passionately meal.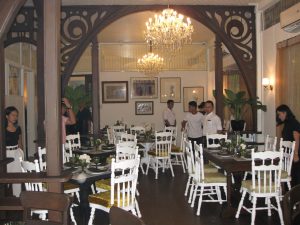 Tita Belen regaled us with stories of the house's past. I still remembered the time when I'd accompany my mom and dad when they visited Engineer Alfonso Gallardo Oboza, Natividad Inigo-Oboza and their children. Later on when I was doing research on the old houses of Davao, it would take a personal call from my mom to get me inside the house to interview the strict, prim and proper lola Naty. I will never forget the delicious fruit cakes she never failed to send us come Christmas time. Now, it's tito Rene who continues the tradition which I truly appreciate.
Tola, according to Vince Arcenas, "Is a traditional home-styled Filipino resto offering food and service experience that is simultaneously familiar and elevated. Guests will find a melting pot of surprising and comforting tastes focused on regional and Davaoeno dishes combined with the warmth of old-world hospitality."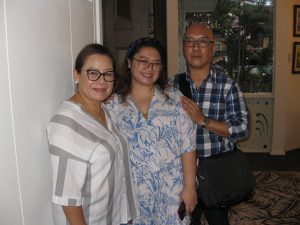 Watching chef Rob Pengson in culinary action in the kitchen is a treat, indeed. He looks like he is always camera-ready, a showbiz pro with his years of success in the restaurant business. Oh yes, chef Rob is used to lights and cameras when he hosted QTV's Chef-to-Go. His cooking show was even nominated as Best Educational Program by the Star Awards for Television in 2008. The handsome chef is known for his inventive, thought-provoking, and even groundbreaking cuisine. "He loves to challenge traditional cuisine by ignoring the dogma and infusing culture and heritage into his cooking," describes Tricie, herself a good cook, of her talented brother.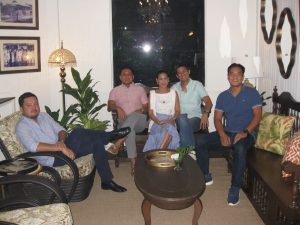 While waiting for the other guests to arrive, I had a drink of Coco Sangria. It's a cocktail concoction made from Malbec Merlot, buko juice, coco syrup and served on a Burgundy glass over ice. For appetizer, we had lumpiang sariwa which came with a garlic peanut sauce. Next came the Ensaladang suha or pomelo salad; and a most flavorful balbacua with its tender oxtail and Cardava bananas for soup. The crispy pancit palabok, baby squid adobo, bistek Tagalog, Kare-kare with garlic rice never tasted so good. As I was so full, I requested tita Belen to share with me the slice of buko pie which comes with caramel sauce.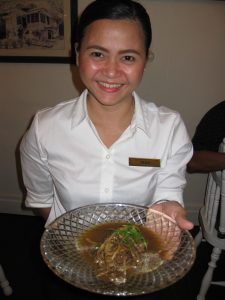 I've been exposed to a wide spectrum of gastronomic gems in Davao City. There's the rich, Iberian-influenced dishes that are customary party fare in my family. Then there's the filling Chinese cuisine for Sunday family lunches with the family. Not to forget the steak houses, a fave of the carnivorous diners, to celebrate special events. Tiring of these cusines, you can always go back to the basic, home-cooked styled Filipino cuisine like what Tola: Kan-Anan sa Balay Oboza offers.
Oh yes, I'm definitely going back to have a taste of Tola's Ilonggo cuisine. Remember, chef Rob and Tricie have Ilonggo roots. Congratulations to the Big Hero 5 namely Chris Pamintuan, Kim Pamintuan, Vince and Tricie Arcenas, and Kenneth Villaluz on their new restaurant.