It's all systems go for the RBL (Relampagos Basketball League) Board Members Cup 2019 basketball tournament which tips off on Saturday, September 28 at the Panabo City Multi-Purpose gym.
"Medyo nagkaroon ng konting aberya sa venue but all systems are go this coming Saturday," said RBL Commissioner Jek Melendres adding that all the eight participating teams will play on the opening day.
"We will start with a motorcade from Panabo Park (near old cityhall) all the way to Salvacion Gym. We will be having a quadruple header to start our season," Melendres added.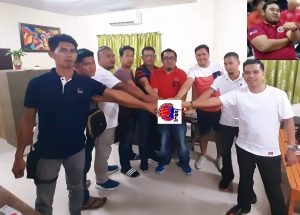 In a meeting with the team owners, RBL Board Members Cup co-founder Atty. Arvin Laguindam challenged every team owner to play their part for the league to be successful.
"As I have said ang challenge sa atong liga will be the venue (Panabo Gym) since there are a lot of activities that are being held there these days and very abrupt ang atoang pagpaliga but nonetheless we will push thru with our opening as scheduled." Laguindam stressed.
RBL Founder Atty. Jigs Relampagos along with PAO District Heat Atty. Arvin Relampagos and Melendres will welcome the teams in grand rites prior to their respective matches.
Teams will be divided into two brackets with the Panabo City Mayor's Office, KD Green Lions (PAO and Friends), DavNor Faith Defenders (Pastors from DavNor) and Fiscals/PNP Tagausig (Panabo Fiscals and PNP) in Group A and the RFC Eagle Warriors (RFC Lending), Nippon Paintmasters, Panabo Hall of Justice and PDEA Drugbusters comprising Group B.
Teams will play a single bracket classification round to be followed by the crossover group quarterfinals. The top two teams per bracket will have a twice-to-beat edge going to the semifinal round. The semifinal winners will advance to the finals in a best of three affair while the semis losers will play for third place.
The champion team will get P15,000 while the first and second runner-up will get P10,000 and P5,000, respectively.