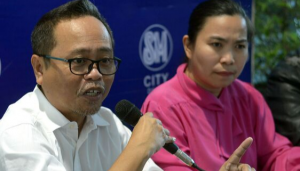 The Coalition of Concerned Families of the Philippines (CCFP) will hold a prayer assembly on Sept. 30, Monday, at the Rizal Park in hopes of condemning the efforts to pass the SOGIE Equality Bill.
Mel Techo of the CCFP said the two-hour activity – from 5 a.m. up to 7 a.m. – is open to all concerned people and families.
Techo said the purpose of the assembly is to affirm and honor what the church and the families stand for.
"We are here not because we are anti-LGBT, but we want to stand with the entire nation to make clear ano talaga ang bill na to at kung ano ang magiging impact niya later," Techo said.
The Senate is currently deliberating the proposed Sexual Orientation and Gender Identity and Expression (SOGIE)
Equality Bill.
He highlighted that there are enough laws that address discrimination, protection and equal rights across gender, age or to children and women.
"We cannot, in a way, create a specific law for particular people, because even in the Constitution no certain groups, certain aura or whatever kind are given favor over other groups for the law is created equal, no matter of tribe, gender and age," Techo said.
CCFP is an alliance of Bible-believing Filipinos who affirm the traditional family and values of the nation.