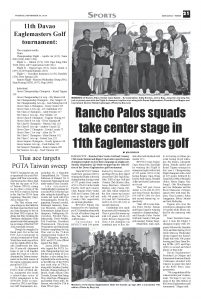 Davao City – Rancho Palos Verdes Golf and Country Club teams Salami and Rigen/Capa took respective team champion trophies to close their campaign on a high note, Sunday (September 22) which wrapped up the 11th edition of the Davao Eaglemasters golf tournament.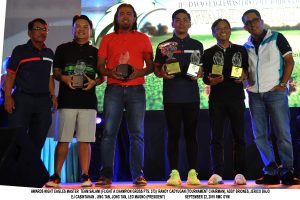 Team RPVGCC Salami made their presence felt by winning the Flight A division championship scoring a total of 373 points from rounds of 113-150-110 at the South Pacific Golf and Country Club, Rancho Palos Verdes Golf and Country Club and over at the Apo Golf and Country Club, respectively on separate playdates.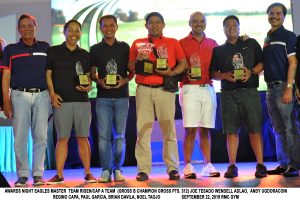 RPVGCC Salami was bannered by two handicapper EJ Casintahan along with its cast of brothers Jong and Jing Tan, Jericho Bajo and Addy Briones.
Casintahan led RPVGCC with 104 points backed by Briones (102) and Bajo (85) as they edged closest foes UBI-Tapa King-Nike TGIS of Apo Golf and Country Club (Karloz Alba, Jorge Martinez, Monchit Mackay, Alrey Ceniza, Patrick Tan) which settled for the first runner-up honors with 348 points (103-129-116) and AIP Construction Golf (114-122-105-341) at second runner-up.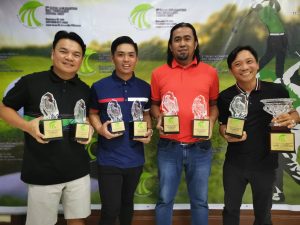 Castintahan also made his presence felt winning the Class A gross first runner-up with 104 points (29-43-32) while Briones bagged the Class A net champion via countback next to Roy Nudalo after both finished with similar 117s.
RPVGCC team Rigen/Capa shared the limelight by winning the Flight B champion trophy with a total of 312 points (105-111-96) having Regino Capa, Brian Davila, Paul Garcia, Wendell Adlao and Andy Ugdoracion on its cast.
They left past Green Jacket A (94-108-95-297) and Rap/Nueda Builders (94-108-95-294) for first and second runners-up, respectively.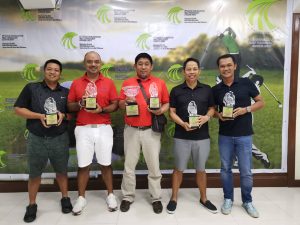 "Hats off to team Rancho Palos Verdes' Salami and Rigen/Capa for winning respective championships," said Rancho Palos Verdes Golf and Country Club general manager Tommy Inigo.
Meanwhile, team Apollo Air having its future pro roster having Lloyd Labrador, Ely Bisera, Alexander Bisera, Johndie Quibol and Ronel Tagaan emerged as this year's Championship Flight champion with a total of 425 points followed by Team IMG (398) of Misaichi Otake, Marty Ilagan, Ray Sangil, Gab Macalaguim and Ace Stehmeier and the Rizal Memorial Colleges squad (394) with Raul Minoza, Vince Lusterio, Julius Langgamin, Boboy Jaraula and Jack Mabaylan.
Tagaan also won the overall gross champion with 110 points while Bisera settled for the runner-up with 108.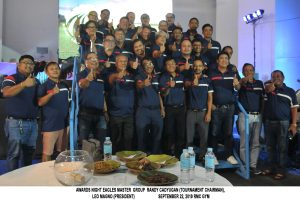 Team Travellers Insurance 2 took the Flight C champion trophy with 251 points followed by Bandido (236) and Beta Spring (224) while Mimosa Wednesday Group bagged the Seniors Flight title with 506 points leaving past Sany Team/Boing MTRL (497) and Pugo (489) at second and third places, in that order.
Davao Eaglemasters President Leo Magno and tournament chairman Randy Cadiongan awarded with winners in grand rites held at the RMC Petro Gazz gymnasium.
"We congratulate all the winners in this year's tournament. We hope to see you again in the 12th edition of the Davao Eaglemasters golf tournament," Magno said.
11th Davao Eaglemasters Golf tournament:
The complete results:
Team:
Championship Flight – Apollo Air (425), Team IMG (398), RMC (394)
Flight A – Salami (373), UBI Tapa King-Nike TGIS (348), AIP Construction Golf (341)
Flight B – Rigen/Capa (312), Green Jacket A (297), RAP/Nueda Builders (294)
Flight C – Travellers Insurance 2 (251), Bandido (236), Beta Spring (224)
Seniors Flight – Mimosa Wednesday Group (506), Sany/Boeing MTRL (497), Pugo (489)
Individual:
Gross Championship Champion – Ronel Tagaan 110
Gross Championship 1st r-up – Ely Bisera 108
Net Championship Champion – Ray Sangil 112
Net Championship 1st r-up – Jack Mabaylan 108
Gross Class A Champion – Demy Saclot 105
Gross Class A 1st r-up – EJ Casintahan 104
Net Class A Champion – Addy Briones 117
Net Class A 1st r-up – Roy Nudalo 117
Gross Class B Champion – Eugene Chiong 93
Gross Class B 1st r-up – Elvie Naranjo 88
Net Class B Champion – Patrick Cruz 124
Net Class B 1st r-up – Andrew Cayad 122
Gross Class C Champion – Erwin Lozada 73
Gross Class C 1st r-up – Allen Go 70
Net Class C Champion – Hans Dumar 142
Net Class C 1st r-up – Robert Lim 122
Gross Seniors Champion – Goody Ignacio 140
Gross Seniors 1st r-up – Fred Pucket 135
Net Seniors Champion – Enrico Santos 180
Net Seniors 1st r-up – Noel Yamzon 169