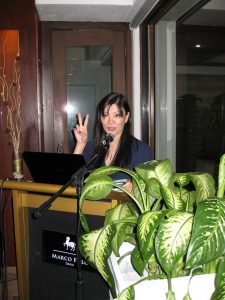 Marco Polo Hong Kong Hotel/Gateway Hotel/Prince Hotel's well loved Director of Communications Samantha Poon was recently in Davao City together with Singaporean General Manager Dalip Singh and Karen Tam of Harbor City as part of their Philippine media campaign for 2019. Helping the Marco Polo Hong Kong group warmly welcome visitors were Marco Polo Davao's own General Manager Colin Healy and his lovely angels Pearl Peralta-Maclang, Sarah Dayrit-Mama and Ariane Cabrera. No doubt about it but Hong Kong still remains as one of the favored Rest & Recreation places Pinoys love to go to; not to fail to mention the number of Filipino overseas workers employed in Hong Kong. Last year, Hong Kong was rated as one of the world's top tourist destinations with the "Fragrant Harbor" welcoming 65 million visitors. Yes, tourism is one of Hong Kong's most important industries which, sadly, is now facing an unfortunate downturn.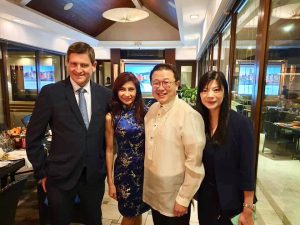 As we all know, Hong Kong for the past months, has been challenged with its anti-government protests with the "level of violence escalating." It has become a prolonged situation of chaotic encounters between anti-government protesters, pro-government supporters, bystanders, and the police despite the announced withdrawal of an extradition bill with Mother China which triggered the protests in the first place.
"It is truly a challenge for us but recently, our hotels have picked up with 70-80% occupancy. We hope the condition continues to improve," said a positive-minded Samantha Poon when asked about the trying times for Hong Kong, its tourism industry, and its effect on premier hotels like Marco Polo Hong Kong Hotel/Gateway Hotel/Prince Hotel.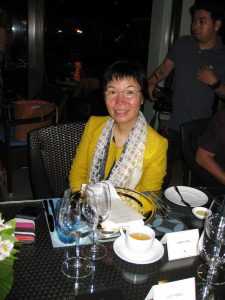 "From September 1 to October 31, Marco Polo Hong Kong Hotel proudly presents its limited number of dedicated Guerlain-themed Deluxe Harbor View Suites. Combining the elegant decorations plus the aromatic amenities provided the suites, guests can truly enjoy a scented staycation with spectacular harbor views and exclusive privileges. One has only to make their bookings at the hotel website marcopolohotels.com," informed Samantha Poon. Oh yes, Samantha Poon passed around a sensational smelling Guerlain perfume for the invited guests to spray on themselves. The French Guerlain Parfumeur has been around since 1828.
Situated in the heart of Tsim Sha Tsui, Marco Polo Hong Kong is part of Harbour City—Hong Kong's largest shopping center which is comprised of over 450 shops including those of the world's leading luxury brands plus various dining options. Marco Polo Hong Kong has 665 guestrooms and suites, a number of which has breathtaking views of Victoria Harbor. The hotel is known for its signature personalized service. Marco Polo Hong Kong Hotel features an outdoor swimming pool, a lobby lounge, a gym, and all-day dining outlet, Cafe Marco with its wide variety of gourmet cuisine from all over the world, and the renowned Italian restaurant called Cucina. The Hotel is part of Wharf Hotels, a Hong Kong listed company with business interests in property and investments in communications and container-terminal operations.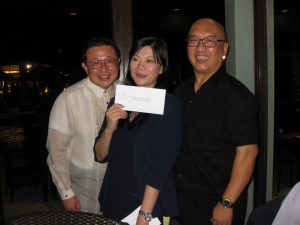 The delicious dinner that night was personally recommended by GM Colin Healy who is, himself, a certified chef. We started with the prawn pomelo salad and the potato, zucchini and tomato cream soup. Next came the pan-seared foie gras. For the main course, I chose braised US beef short ribs with potato gnocchi, edamame, broccoli salsa and bistek jus. For dessert, we were served pomelo cake.
To cap the night, the Marco Polo Hong Kong representatives held a raffle. There were three prizes with each consisting of a free four-night stay at a luxurious suite of Marco Polo Hong Kong. The unlucky ones still got a free two day accommodation at the hotel's simpler rooms. Yes, you provide your own airline ticket to Hong Kong and back.
After consuming glasses of Chilean wines, one got to realize and focused on how Pearl Peralta-Maclang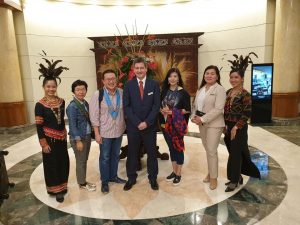 looked so sexy in her tight-fitting cheongsam. She had a challenger though in the person of the "boldie" blogger, Vanessa Mabini, who wore her wiggle-wiggle, lacey dress that night. Yes, much to the delight of the Barong Tagalog-clad GM Dalip Singh who kept wiggling as the two ladies cornered him for a pictorial con mucho gusto.
What a night, indeed. Thank you, Marco Polo Hong Kong. You truly realize the need for perfection. I wish you all the best in facing your challenges.