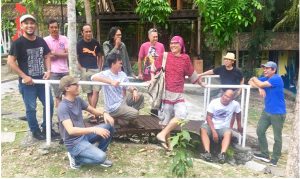 The art scene in Davao City is surging high and has come out from the dry spell of creative juices. For the past couple of years, slowly but surely, young and veteran artists are coming out from the woodwork, showing their artworks in different venues in the city. This time, the much awaited biggest art event to hit Mindanao, the 2019 Mindanao Art Fair Exhibit organized by Mindanao artist Kublai Millan will bring them all together.
The Mindanao Art Fair will be participated by select Mindanaoan artists from different Mindanao art galleries and groups . Among the participating art galleries is Davao based Bintana Art Gallery (BAG) owned by spouses Alex and Isabelina Alagon. The BAG collection is an exciting array of paintings and sculptures from a line-up of veteran and award winning Davao artists with its exhibit title "Twinning of Creation and Destruction": George Abaigar, Alex Alagon, Jag Bueno, Mariano "Anoy" Catague, Victor "Bong" Espinosa, Ronald "Pinx" Gaspe, JC Gonzales, Donn Manguilimutan, Gilbert Miraflor, Victor Secuya and Jong Tangiday.
The BAG exhibit is curated by Davao veteran artist Victor Secuya. The Mindanao Art Fair Exhibit will start with a gala night on Oct. 4, 2019 at 6pm. The art exhibit will run until Oct. 6, 2019 which will be open to the public.