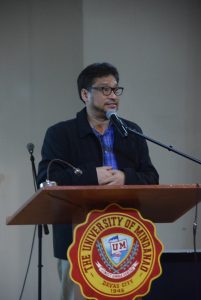 Ronnie V. Amorado's book on "principled leadership" was launched Saturday, Sept. 14, at the University of Mindanao, a sequel to his book on the "unprincipled, unethical and unqualified" leaders.
Peripatetic: Practical Lessons on Leadership is a 256-page book that lists down 134 lessons. Amorado considers this book a sequel to his 2011 book, Kakistocracy: Rule of the Unprincipled, Unethical and Unqualified.
In his preface, Amorado, Senior Vice President for Academic Affairs of the University of Mindanao, said Kakistocracy "highlights bad leadership" while Peripatetic "underscores good leadership."
Amorado's book launch was preceded by a signing of a Memorandum of Understanding between UM and the municipality of Jose Abad Santos in Davao Occidental, on the design and implementation of a credit-earning certificate course on leadership studies for the town's officials and employees; and lecture on leadership by former Presidential Adviser on the Peace Process Jesus Dureza.
It was Dureza's first public lecture since he resigned in late November 2018 after his high school classmate, President Rodrigo Duterte fired an Undersecretary and a Director in Dureza's office due to corruption.
"I truly am sad that OPAPP (Office of the Presidential Adviser on the Peace Process), as an institution which I head, had to suffer publicly due to the acts of a few. Nonetheless, I take full responsibility and apologize for all this," Dureza said in his 11-paragraph resignation letter addressed to the President.
"I resigned and in fact President Duterte was surprised di ako nagpaalam sa kanya," Dureza said on Saturday.
Amorado said he wrote Kakistocracy because of his interest in leadership integrity issues. He was then "very much involved in anticorruption movement in the Philippines while working in the academia on the side" and the book became a "foundational material every time I was (and still am) invited to talk on various leadership seminars and lectures nationwide in the public and private sector."
But in every lecture, he said, he was asked about follow-up material, this time, focusing on good and principled leadership.
Amorado said Peripatetic contains "fresh and practical lessons from the field and various organizational workplace environments."
"Peripatetic lessons stand for what we yearn for. Principled leadership continues to be wanting; our search for it is a never-ending longing," he wrote.
The essence of Peripatetic, he said, is "to walk the talk."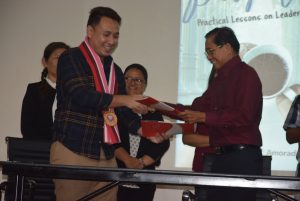 The book's title "derives from Aristotle's ancient tradition of talking—or teaching — while walking with and among his students. It has become a symbol of good leadership in words and in deeds. There are leaders, managers, and administrators who just talk the talk. This is leadership by lip service. Conversely, peripatetic leadership is leadership by example."
Amorado said his book, divided into three chapters, is both "experiential and research-based."
The first chapter dwells on the theory and practice and a big part of it inspired by John Maxwell's 360o leadership concept. The second is an applied art and science of exercising peripatetic leadership in various areas and functions and the third chapter gives attention to special problems in peripatetic leadership.
Amorado admits so many books have been published on leadership so what's new with Peripatetic?
He cited four points: the book demystifies the leader ("there is no such thing as good or bad leader per se"); traits common to all ("a leader possesses both good and bad leadership traits"); leadership is not inert ("a leader can be both good and bad at any point in time depending on his/her leadership actions"); and key is cultivation ("it is good leadership traits that shape a leader to become good, and it is bad leadership traits that form a leader to become bad; it all depends on exposure, experience, education and cultivation.")
Aside from Kakistocracy (2011) and Peripatetic (2019), Amorado is also author of Fixing Society: The Inside World of Fixers in the Philippines (2007), Literati: Literature Review in the Current Purview (2015), and Lord Anthony's Antonio T. Uy, A Scout's Biography (2017).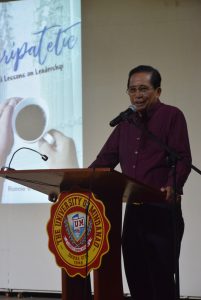 He is also co-author of Cross-sectoral Study of Corruption in the Philippines (tama ba title??) (2001), Ehem! A Manual for Deepening Involvement in Combating Corruption (2003), Aha! Citizen's Primer on Whistleblowing (2006), One Man's Vision: Guillermo E. Torres (2014), Qualitative Research: A Practical Approach (2016); and Quantitative Research: A Practical Approach (2017)
"Fixing Society" was conferred the "Outstanding Book Award" by the National Academy of Sciences and Technology in 2008.
Amorado also received the World Distinguished Book Author, Outstanding World Researcher and Outstanding World Research Advocate awards in 2013 from the International Association of Multidisciplinary Research and in 2015, the Best Asian Book for Teaching research by the Asian Society of Teachers of Research.
Amorado was a Hubert H. Humphrey Fellow from 2009 to 2010. (Carolyn O. Arguillas / MindaNews)