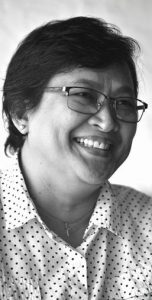 JANE
Jane Ramos
Ever since she was young, Jane Ramos has had a healthy interest for many things; sports, friends, music, adventure. But she was particularly fond of—and naturally gravitated towards—art.
Having graduated from Ford Academy of the Arts (originally Learning Center of the Arts) with a Bachelor of Fine Arts degree, Ramos was requested to teach a summer class at the Sta. Cruz Mission in Lake Sebu and Koronadal City, South Cotabato. A year later, she found herself serving as a full time minister in a local church on top of still teaching art in her spare time.
She returned to Davao 15 years later and decided to immerse herself in the local art industry once more. She was encouraged by Lito Pepito, one of the pioneering artists in Davao, to start painting again. Her efforts resulted in her first solo "one woman" show at Museo Dabaweño in 2012. The show was titled "In Honor of My Parents," which basically sums up the rationale of the exhibit.
From there, Ramos continued to shine in the industry. She underwent a refresher course for modern and contemporary art. She also gave back to the industry by teaching art classes in her alma mater and holding weekend art workshops. Pretty soon, she was organizing reunions for Fine Arts alumni from Ford Academy and art awareness events like live sketching in the park. After her first solo show, she has participated in multiple group exhibits since then.
DADAI
Dadai Joaquin
Dadai spent her childhood in Midsayap, North Cotabato before her family moved to Davao City when she was 7 years old. A self-taught artist, she dabbled in various media like watercolor and pastel but never thought of going full-time. She first raised a family and then went into public relations and advertising, mounting several big events like the Davao City leg of the 2002 Metro Manila Film Festival and the sports component of the WOW Mindanao campaign in 2004.
She did not leave art completely, however, and managed to paint in her spare time. She honed her craft and added other media to her arsenal, including oil and even soil. She joined two group exhibits: the Artisthood Exhibit in 2001 and Symmetry of Spirit, an exhibit of 10 women artists in Mindanao, in 2006. She also taught art and mounted summer art workshops for several years that culminated in exhibits.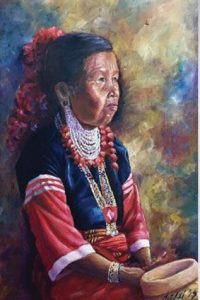 Dadai finally decided to take the plunge and become a professional artist at the end of one such art workshop. She painted 50 works in pastel and pen-and-ink and mounted "GUHIT," her first solo exhibit, at Legaspi Suites on July 16, 2010. A one-night-only affair, it nevertheless secured Dadai's place as an artist of note in Mindanao.
Her follow-up exhibit was "Kuwarenta," a three-day exhibit held at The Royal Mandaya Hotel on October 25-28, 2012. As the name implies, it was a celebration of her 40th birthday, for which she painted 40 works in acrylic and watercolor.
Her third solo exhibit was Χαρις (Charis), a week-long event held in October 2016 at her newly opened studio in downtown Davao City. In December 2017, she was part of Beginnings and Beyond, an art exhibit featuring 12 Mindanao artists mounted by Phoenix Petroleum in celebration of its 15th founding anniversary. She was also part of a number of group exhibits with Bai Hinang, an all-female Mindanao artist group, in 2018.