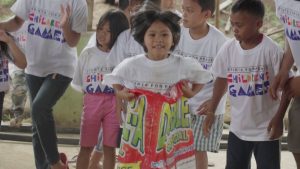 Around 120 participants climbed mountains as others waded through a rivers just to join the Happiness Project Mindanao-initiated Philippine Sports Commission (PSC) Sports for Peace Children's Games at the Barangay Tawantawan covered court in Baguio District in Davao City last September 14.
The Happiness Project Mindanao incorporated a tree planting activity near Panigan River before Larong Pinoy games were played by the children.
PSC Mindanao cluster head Ed Fernandez said, "Children from the outskirts of Barangay Tawantawan were fetched because it was hard for them to come to the barrio center. They wade through rivers, climbed mountains, rode precariously in trunks and walked kilometers of dirt road to be at the multi-purpose gym."
Of the 120 children who came, 80 percent were indigenous peoples (IPs), particularly Manobos.
Barangay Tawantawan is a remote barangay in the third district of Davao and is home to the IPs and city's watershed.
Happiness Project Mindanao director EJ Fernandez spearheaded the plant and play activity in partnership with PSC.
PSC Chairman William I. Ramirez, in a recent meeting with PSC Mindanao staff in Davao City, reiterated President Rodrigo R. Duterte's directive to bring sports to the grassroots level.
The Children's Games series in Davao region were also held recently in New Bataan, Compostela Valley with 200 participants, Lower Tamugan in Davao City also with 200 kids and Malita, Davao Occidental with 250 children.
Up next will be the Children's Games in Agdao, Davao City on September 28 and in Maragusan, Compostela Valley on September 27 and 28.