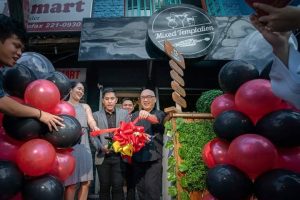 It must have been three months ago since I received news from the former Marco Polo Davao waiter cum bartender, Rogelio "Budoy" Cañales, an invitation to try his own bar business called "Mixed Temptation." The hardworking and lovable guy must have been so busy with his businesses from his in-demand Mixed Temptation Mobile Bar catering for special events to repairing and painting in so bright colors some rooms of his house to rent out to boarders; plus of course his loyal duty as husband to his lovely wife, Almarie (his multitasking commander-in-chief for life), with whom he has four healthy children. "It's for my family and those working for me that I am working very hard for, sir," Budoy told me and you can feel his sincerity in what he says.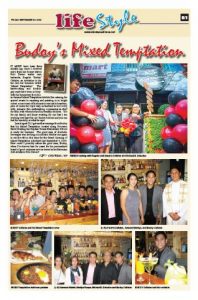 Last August 20, I got another message from Budoy that his Mixed Temptation located along Ponciano Street fronting the Kapitan Tomas Elementary School is ready for business. The good man of alcoholic beverages was inviting non-alcohol drinker me again to cut the ribbon this time for the Grand Opening of Mixed Temptation scheduled last September 8, 2019. How could I possibly refuse the good man, Budoy, when I've known him for years for his personalized brand of good customer service dressed in his Hawaiian shirt at Marco Polo Davao?
The humble Rogelio "Budoy'' Cañales of Bukidnon origin graduated in 2007 under a two-year Associate Hotel & Restaurant Management program at the Alemarz School of Science and Technology. The bright and hardworking young man was a TESDA scholar. Immediately after earning his certification, Budoy started his On-the-Job-Training in October 2006 at the Marco Polo Davao no less. In 2007, he was taken in as a banquet-on-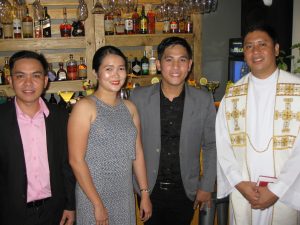 call waiter. It was during the period from 2008-2011 that Budoy started working as an official bartender of Marco Polo Davao's Lotus Court, the best Cantonese restaurant in the city. By 2011-2013, the waiter turned bartender was assigned to the hotel's Pool Bar. A year after, he was promoted as Banquet Bar Captain. Good that he was in bar tending, Budoy was assigned to man the Eagles Bar plus all of the hotel's bar outlets.
From 2016 – 2018, the good bartender Budoy was again transferred to the Lotus Court and placed in charge as the department trainer for Service and Beverage Skills. "I then resigned from my job at the Marco Polo Davao in February 2018. I became aware of the booming popularity of the mobile bar business that I was determined to have my own as a feasible source of income for my growing family," Budoy confessed.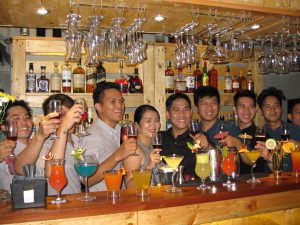 "Why the job as a bartender? Honestly in the beginning, I had no idea what bar tending was all about. All I knew was being a waiter and serving the guests to the best of my ability. When I was transferred to the Lotus Court to take on the position of a bartender, I honestly didn't even know how to make tea, brew coffee, or even how to prepare simple fruit juices," revealed Budoy with a laugh as he continued, "If our guests ordered cocktails that time, I just went straight to the Lobby Lounge or the Eagles Bar for the ordered drinks. We were not allowed to mix cocktail drinks at the Lotus Court. Besides, I wouldn't have the slightest idea on how to prepare these alcoholic beverages. I was frightened when I was assigned to the Polo Pool Nar. Not only was I ignorant of cocktails, mocktails, spirits and wine; but I was also scared to speak in English. The Pool Bar is the fave hang out of the hotel's foreign guests. And I can only answer in YES or NO in English."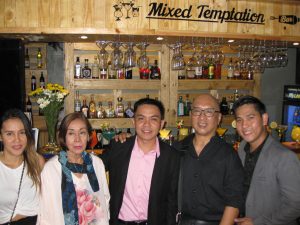 But knowing the determination of Budoy, he was quick to study, research and diligently attended seminars and workshops. "I was focused on the techniques in becoming a master in bar tending. Armed with the proper knowledge, I then gained the confidence to mix drinks plus personally talk to our guests to make them feel important as highly valued customers. Best of all, I just love what I am doing; and I am good at it and gained my self-esteem to develop myself better. And my vocabulary in English has improved a lot from the constant conversations with foreign guests."
"Through this passion and love for my kind of work, I can now do the possible from what I thought was impossible before. As I've gained the experience and knowledge on bar tending, I've now started to share the skills I've earned through my struggling years of hard work with students, casuals, newbies, and young bartenders who have the passion to become competent in this line of work. And I also give them HOPE and INSPIRATION as I strongly believe that if you follow your passion and dream, everything will happen at the right time," said Budoy with compassion.
I am so proud of you, Budoy!