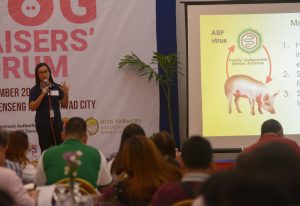 Hog raisers in Mindanao held the first-ever industry forum amid the specter of the African Swine Fever (ASF) that grips other areas of the country.
The Mindanao Development Authority and the Hog Farmers Association of Davao, Inc. (Hogfadi) organized the 1st Mindanao Hog Raisers Forum at the Grand Men Seng Hotel yesterday
Apart from pursuing efforts and policies to promote viability of products and food security across the region, the forum also discussed measures to prevent the possible spread of ASF in Mindanao. They tackled protocols that will ensure a high state of readiness to swiftly control and eradicate the disease.
The forum invited several resource speakers from the Bureau of Animal Industry, Bureau of Customs, National Meat Inspection Service XI, Food and Drug Administration, and the Davao Association of Veterinary Technical Representatives.
"As early as August of 2018, we were already talking to measures that prevent the entry of ASF," said MinDA chair Emmanuel Piñol Jr.
He added that the reason why MinDA intervened is because the entry of disease will cause a huge economic impact to the island.
Meanwhile, Eduardo So, president of Hogfadi, said that they always urge their members, and the public as well, to be vigilant in protecting the borders to prevent the entry of processed meats and pork byproducts in Davao City.
He said they are distributing posters and conducting information campaign in barangays about the ASF. They are targeting backyard hog raisers who are most vulnerable.
Last week, the city government, issued an executive order forming a body that will come up with measures to prevent the entry of ASF in the city.