A few weeks from now, Mt. Diwalwal will not be the site of the gold rush in the north of Davao City. The rush of investors will be at Hijo Resources Corporation where the amazing development, a new township is rising.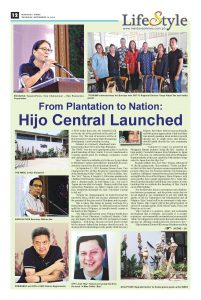 Situated in a formerly abandoned warehouse built in the 1920's at the Hijo Plantation, The WREC was the most appropriate place to hold the grand launching of Hijo Central. It is now transformed to a unique special place for weddings, receptions, events and conferences.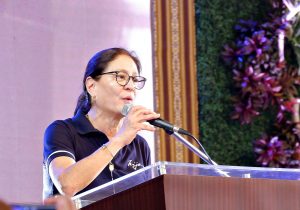 Hijo Central is a walkable city by the sea. It pays tribute to Mindanao's culture and traditions. Inspiration for every structure comes from the environment around it.
On September 15, 2019, Rosanna Tuason-Fores, Vice Chairperson/CEO of Hijo Resources Corporation relates at the launching of Hijo Central: "In 1968, my father, Atty. Jose "Boy" Tuason, Jr. bought a 2,100 hectare plantation for 1 Million USD from the Americans, site unseen. Sometime after a drunken night, he told Manny Lim, "Let's go to Tagum and see what we bought.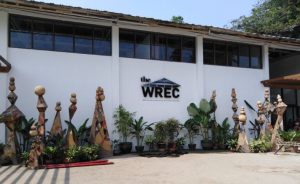 Manny recalls that upon seeing Hijo Plantation, my father's hands were over his face, completely distraught. He said, "My father is going to kill me".
"Despite his disappointment, he looked beyond the run-down abaca, rubber and coconut plantation and saw the potential of the place and of Mindanao and its people.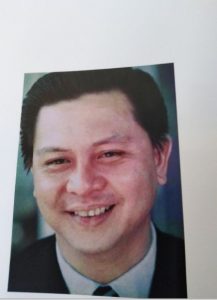 This is where Hijo began its journey and hope for a better future for the country.
Its land and resources should uplift the lives of Filipinos, its benefits should
remain in the hands of the Filipinos."
"My father believed that every Filipino should have the right to Food, Education, Livelihood, Identity, Clothing, and Equity. He called it FELICE. In Spanish, it means happiness – well-being. He may not have known it then but he already defined that business should not only be about profit, but should improve the quality of life for every Filipino. But what I believe more profoundly and with greater appreciation is that my father was already speaking about inclusive growth decades ago. In simple terms, that business should benefit directly the very community it serves."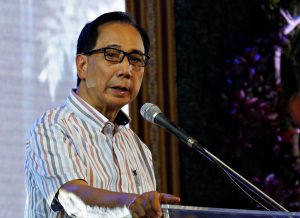 "Unknown to many, he pioneered the Philippine Banana Industry, being the first exporter of high-quality Cavendish bananas from Mindanao to Japan in 1969.
This year, we celebrate the birth of the Philippine Banana Industry as this year marks the 50th maiden voyage sailed to Japan from the Hijo Port."
Rosanna's father, Atty. Jose "Boy" Tuason, at the age of 39, died in a plane crash. She continues: "Today, our farmers that toil this land of promise remain marginalized, the poorest of the poor. Be it foreign interests, big businesses, or politics, Mindanao's natural resources have not benefited and uplifted the lives of the Filipinos. Many Filipinos, with great sacrifice have sought opportunities for a better life, away from their families outside their own country. It is this backdrop that we celebrate the launching of Hijo Central on his 89th birthday."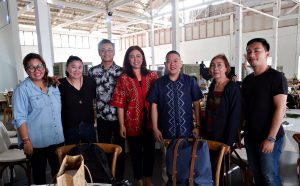 "For the first time, there is convergence and collaboration between government and the private sector that we are all aligned in our commitment to not only uplift the quality of life for Tagumeneos but Mindanaoans and all Filipinos. Hijo Central will be an instrument to help reposition Tagum. Hijo Central will be the global location of choice for a unique quality of life where People, Place, and Planet are at its core."
"Hijo Central is a sensitive, smart, and sustainable development that is walkable and livable. It is socially responsive – environmentally sustainable and economically viable. We will preserve and promote the local cultural heritage and art, offering a unique place for everyone to live."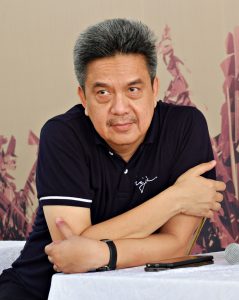 "Hijo Industrial Estate will leverage Mindanao and help its local community to thrive. We are establishing a Smart City, a hub for FoodTech, BioTech, and
AgriTech. Smart cities are not just about technology. It is about building an
ecosystem of smart people, smart place and smart planet."
"From a farm to a smart city with Hijo Central at the core of it all. Hijo Central will include a digital agricultural marketplace – a disruptive platform that connects farmers to global customers."
"In partnership with The Kitchen Israel and Dr. Nini, Hijo Central will establish
a food innovation hub where entrepreneurial ideas are exchanged, labs are
available to test these ideas, and academe and private support for commercialization to maximize value in the growing food market. A place that delivers sustainable social change."
September 15 marks the 89th birthday of Atty. Jose "Boy" Tuason, who once said "I look upon Hijo as my son, I look forward to the day when Hijo, the people on it and myself, can wake up one morning, look at the sun rising gloriously in the east, and truthfully say, my God, it is a beautiful morning, all's well with Hijo and the world."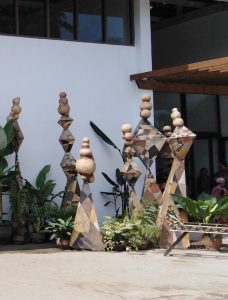 "Rosanna ends her speech, addressing her dad saying "I am glad to report that Hijo, and all the people in it, are hard at work making your vision of a better life for the people of Mindanao an everyday reality".
Representing President Rodrigo R. Duterte was Agriculture Secretary William Dar. Vicente Reyes, Chairman of the Board of Directors delivered the Welcome Speech, while Ramon Segismundo, President and COO of HRC talked on The P3 City. The launching was attended by Mayor Allan Rellon of Tagum City and Vice Mayor Lorriane Estabillo.
Photo credits: Jojie Alcantara/Marilyn Roque