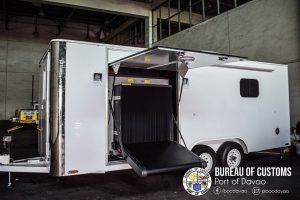 A new x-ray machine capable of inspecting larger and heavier shipments was installed in the Davao International Airport (DIA) cargo unit to increase the border security capabilities and speed up clearance of airfreight goods.
According to the Bureau of Customs (BOC) Port of Davao, the new X-ray machine was installed last Sept.13, 2019 and is expected to be operational within the year.
It is capable of inspecting up to 200 kilos in weight. The 6-color imaging feature will aide customs x-ray operators to fully identify the contents of cargo.
"The Bureau is committed to protecting our air and sea ports from smuggling. With the increased economic activity in the region, we ensure that Customs is prepared to handle the predicted increase in trade activity in Metro Davao," said disrict collector Erastus Sandino B. Austria.
The Davao International Airport has now five X-ray machines.
Austria added that the Port of Davao has already set corresponding training for its x-ray operators "so that the new equipment can be used efficiently and effectively."
Also, with several machines to be installed in the seaports, this will further boost the Port of Davao's scanning capabilities.
According to BOC, the Bureau has invested and procured more X-ray machines to be utilized by many of the major ports nationwide in order to increase their capabilities as part of the 10-point priority program of Commissioner Rey Leonardo B. Guerrero.