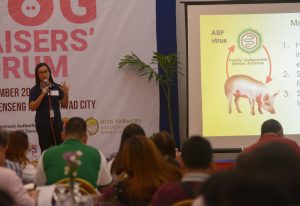 The City Council passed a resolution on Tuesday requesting Mayor Sara Duterte to temporarily ban the entry of pork-related products as a preventive measure against the African Swine Fever (ASF).
Councilor Ralph Abella, who chairs the committee on Agriculture, authored the resolution that also listed raw, processed and cooked pork, as well as pork byproducts (edible and non-edible), from Luzon and other ASF-affected areas.
"We follow the Department of Agriculture's resolution asking the LGU to issue a resolution banning of swine and other pork products," said Abella in an interview.
Last Sept. 10, the DA XI passed Resolution No. 3 series of 2019 requesting local government units for the temporary ban of swine, pork, and other pork-related products.
Following his resolution, Abella said that City Hall will issue an executive order soon granting the request of the City Council. The executive order is now being reviewed by the city legal officer to determine if there are legal infirmities in the declaration.
He added that an implementing rules and regulations will be crafted by the ASF Task Force.
Last Sept. 05, the city government, through Executive Order No. 37, Series of 2019, has created a task force that will enforce control measures to prevent the entry and spread of AFS in the city.
"The city already has a task force organized on this so they will come up with the IRR of this resolution," said Abella. "Honestly, we lack staff to act on this issue but we have partner private sectors on our ASF task force so I am really hoping that they would help."
Abella also said that prices of pork products will not increase because of the temporary ban.
"I don't think there will be an increase of prices for live or frozen meat because we are the ones exporting to Luzon," Abella said.
On Sept. 9, 2019, Agriculture Secretary William Dar informed the public that majority of the 20 blood samples sent to united Kingdom tested positive for virus and confirmed that African Swine Fever caused deaths of hundreds of pigs in towns located in Luzon.