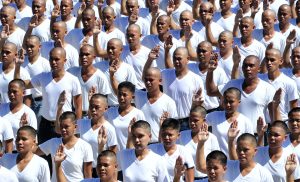 Four hundred PNP recruits took their oath in a brief ceremony in the PRO XI grandstand, Camp Sgt. Quitin Merecido in Barangay Catitipan, Buhangin yesterday.
The oathtaking ceremony was administered by Brig. Gen. Marcelo C. Morales, the regional police director.
The new police officers, composed of 332 males and 68 females, form part of the PRO XI regular recruitment program quota for CY 2018 for PNP Mobile Forces.
In his speech, Morales reminded the recruits that much is expected from them because they are wearing the PNP uniform and they represent the government. They are expected to follow the strict rules and regulations. Lastly, he said that the organization will not hesitate to file criminal and administrative cases against them if they commit a crime.
Morales also asked family members and loved ones to always remind the new recruits about their duty to the country and its people. "I want you to be guided by the virtues of discipline, teamwork, and commitment," he added.
The newly appointed police officers were turned over to the Regional Training Center XI and was received by Col. Arnie Cuaresma, the regional training director. The center will prepare the recruits physically and mentally to become effective police officers.
The recruits are required to finish the Public Safety Basic Recruit Course (PSBRC) for six months which be followed by another six months of field training program, which will qualify them for permanency. As patrolman, they will receive a basic monthly salary of P29,668, aside from allowances and other non-cash benefits.
Maj. Jason Baria, the PRO XI spokesperson, said the new PNP members will fill up the vacant slots as a result of the death, dismissal, and retirement of personnel assigned within the region.
"The new vacancies intend to beef up the manpower complement of the PRO to further strengthen the PNP capabilities," Baria said.