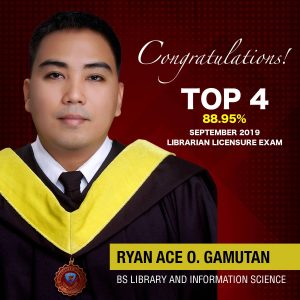 Not only  has the University of Mindanao posted a 100% passing rate for the September 2019 Librarian Licensure Examination, the university also posts a topnotcher as Ryan Ace Gamutan placed Top 4 with a rating of 88.95%.
Gamutan's achievement means another consecutive topnotcher attributed to UM, as he joined the August topnotchers of the Social Worker Licensure Exam in the 2019 Legion of Topnotchers.
UM has also been consistently posting a higher passing rate for first time takers of the national licensure exam compared to the national average, according to the Professional Regulation Commission (PRC), as evidenced by September's Librarian licensure exam and Licensed Forester exam, and last month's Mechanical Engineer, Electrical Engineer, and Master Electrician licensure examinations.
The PRC announced on its website that only 565 out of 1,024 passed the Librarian Licensure Examination administered in the cities of Manila, Baguio, Cagayan De Oro, Cebu, Davao, Iloilo, Legazpi, Tacloban and Tuguegarao.