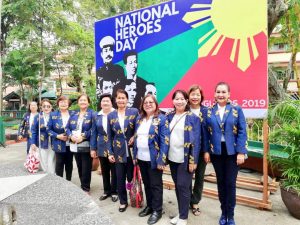 It is once a year that a whole week is devoted to activities to celebrate the spirit of volunteerism and camaraderie as SI Davao brings to a close a year of fulfilling commitments to the women and girls to improve their quality of life.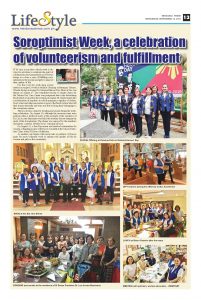 For this year the week-long events started on August 24 with a Medical Checkup at Barangay Talomo; Wreath-laying on August 26, National Heroes Day; Mass at Sta. Ana Shrine on August 27. The scheduled activity to donate chairs for the Talomo Day Care Center was postponed due to the devastating flood which occurred in the evening of August 28, which turned into a mobilization of members to solicit emergency supplies of clothes, food, water and other necessities to give to the flood victims who left their homes hurriedly and were not able to bring their belongings to the evacuation centers.
There is always a time for bonding and socials during the week-long celebration. On August 30, although the monsoon rains were pouring when a barbecue party at the poolside of the residence of Dr. Luz Acosta-Barrientos was held, the weather did not dampen the spirit of the Soroptimists. The dinner was enjoyed by the members and guests, courtesy of Mila Teves' Catering services.
On August 31, a free Pap-smear and medical examination for women, a flagship project of SI Davao was held at the Cancer Detection Clinic at the SI Davao Clubhouse.
As another year begins with more tasks to perform, SI Davao gears for more volunteer work to enhance the quality of life for women and girls in the community.