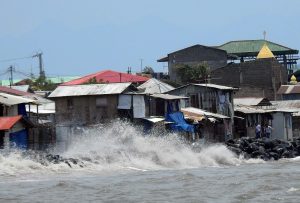 Following the effects of the monsoon waves that hit some coastal barangays in the city, the City Disaster Risk Reduction and Management Office (CDRRMO) has recommended some areas to be declared "No Build Zone."
At least six coastal areas are included in the proposal – puroks 2, 3, and 4 of Barangay Matina Aplaya; Purok 59 of Seaside Bangkal, Barangay Talomo Proper; Purok 6 of Barangay 23-C and Purok 8 of Barangay 21-C as these had been identified as hazard-prone areas.
Matina Aplaya and Talomo Proper are in Talomo District, while 21-C and 23-C are in Poblacion District.
"These areas should be declared as a no-build zone because this (monsoon waves) incident will take place now and then. We are not just preparing for monsoon waves since those are coastal areas, a tsunami can also hit them," said CDRRMO chief Alfredo Baloran in a press release issued by the City Information Office (CIO).
City Social Services and Development Office (CSSDO) head Maria Luisa Bermudo said they already shelled out around P2 million last Friday to purchase food and other non-food items for the last batch of the affected individuals.
According to the CIO, the city government shells out calamity funds to assist residents hit by monsoon waves, which occur every year during the months between August and September.
According to Bermudo, there were 341 individuals displaced by the monsoon waves. Also, at least 100 houses were battered by the monsoon waves, prompting residents to move out of the area to the evacuation centers.
"When the monsoon waves started, we immediately sent them food and non-food assistance. In August, barangays Matina Aplaya, 23-C, 21-C, and Talomo Proper were also affected by monsoon waves," Bermudo said.
"We have given financial assistance to those affected by the monsoon waves last August. Since the affected families by the recent monsoon waves were the same, we no longer gave them financial assistance," she further explained.
Fisherfolk ask for assistance
Thousands of fisherfolk in the city affected by the monsoon called for help from local and national government.
The Federation of Fisherfolks Association of Davao City (FFADC), with 8,000 fisherfolk members through its president Lorenzo Borja, said they need the help of the government to recover from the calamities affecting the federation members.
Borja added that the federation is composed of 80 member associations from 24 coastal barangays, including upland agri-fisheries.
"Currently, we have not received any aid from the government yet. They say they are still conducting evaluation but we would like to know when will the evaluation end." said Borja. "How many days, weeks, or months will it continue?"
"I call on the government and the private sectors to help the directly affected by the onslaught of calamities in these times," he said adding that he could not cater to all the needs of the members being the president of the federation.
According to Borja, they are doing alternative livelihood including the "Isda para sa Masa, Presyong Abot Kaya" where they distribute imported fishes as another source of income.
The program, Borja said, also benefits consumers because it is half the price in the public market because it is "directly imported by the federation" cutting out four to five middleman levels.
"We have nothing to do but to stand for ourselves," said Borja.
But with the number of fisherfolk, the alternative income source will not be sufficient.
Borja added that they are clinging on to loan programs of the Department of Agriculture through the Bureau of Fisheries and Aquatic Resources (BFAR)
"They have given no dole outs but they say their help will be in a form of loan. But in BFAR, the process is taking too long. We have been waiting for three to four months now but there is still no development," he said.
"We are doing our best to connect to the agencies through attending meetings to follow-up on the programs they have for us. We would like to know if there is truth to such programs and if they are really determined in helping us," Borja added.