Reymon Jaraula has the momentum plus some edge in local knowledge as he sets out for back-to-back title drive in the ICTSI Del Monte Championship which reels off tomorrow (Wednesday, Sept. 18) at Del Monte Golf Club in Manolo Fortich, Bukidnon.
Bristling with confidence coming off a breakthrough win – in playoff fashion – over one of the country's winningest players, Jaraula hopes to hoist another trophy on Saturday although he remains wary of his chances against practically the same field he had bested at Pueblo de Oro.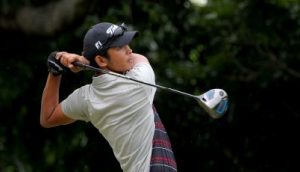 "I feel good and I believe I can win at Del Monte where I used to train," said Jaraula, who pulled off a couple of brilliant putts to stun Tony Lascuña on the second sudden death hole last Saturday. "But Del Monte is a bit tougher than Pueblo since there are tricky holes, including the tight par-4 No. 17."
He added that a 14-under total at the mountaintop course could net one the crown in the P2.5 million championship serving as the seventh leg of the 10th season of the ICTSI-sponsored Philippine Golf Tour and second of four tournaments making up the Mindanao swing.
"But there are a lot of good players so I really have to work hard to win again," added the 27-year-old Jaraula, referring to, among them, his fellow Del Monte players, led by Noel Langamin, who anchored the team's PAL Interclub romp in 2011, along with Magno Arancon and Leonard Lofranco and the Miñoza brothers Paul and Peter along with reigning Philippine Open champion Clyde Mondilla.
Lascuña, for one, is going all-out to nail the win that has eluded him the last two years, his runner-up effort at Pueblo could hit at a successful campaign this week following a number of top five finishes and a couple of third place efforts in his last few events in the circuit organized by Pilipinas Golf Tournaments, Inc.
A host of others are also due for a big finish, including Ira Alido, who placed fifth at Aboitiz Invitational and joint third at Pueblo, Jhonnel Ababa, Michael Bibat, Zanieboy Gialon, Joenard Rates, Elmer Salvador, Rupert Zaragosa and Jay Bayron, who is out to atone for his final round foldup last week.
Upstaged by local top guns at Pueblo with only Thai Kammalas Namuangruk breaking into the Top 10, the foreign contingent toughened up for another crack at the crown won by American Nicolas Paez with Tawan Phongpun and Pachara Sakulyong joining Namuangruk in the roster along with Peter Stojanovski of Macedonia, South African Luke Trocada, American Sean Talmadge, Park Jun Sung of Korea and Dutch Guido Van der Valk, winner of this year's PGT kickoff leg in Cebu.
Meanwhile, a select group of pros test the tight, challenging layout one last time in today's (Tuesday) pro-am where they will be paired with guests and officials of the event's chief backers, including ICTSI, Custom Clubmakers, Meralco, Champion, Summit Mineral Water, K&G Golf Apparel, BDO, Sharp, KZG, PLDT and M.Y. Shokai Technology, Inc.