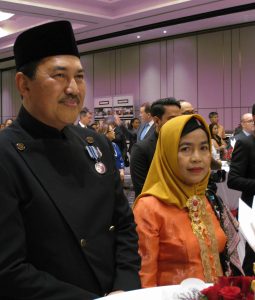 The Consulate General of the Republic of Indonesia in Davao City led by the Hon. Consul General Dicky Fabrian and Madame Fera Andriana Fabrian hosted a diplomatic reception in commemoration of the 74th Anniversary of the Independence Day of the Republic of Indonesia. The annually observed event was held at the newly inaugurated Dusit Thani Hotel, Lanang, Davao City. Representing Davao City Acting Mayor Sebastian Z. Duterte was Davao City's 3rd District Rep. Isidro Ungab who was joined by the Assist. Secretary of the Dept. Of Foreign Affairs-Mindanao Uriel Norman Garibay, AFP Maj. Gen. Felimon T. Santos, Jr., Brigadier Gen. Marcelo Morales, Tagum City Mayor Allan Rellon and Zamboanga Vice Mayor Eva Estabillo. From the Mindanao Diplomatic Corps came Malaysian ConGen Nur Harun, Honorary Consul of South Korea Edgar Ang, Honorary Consul of Denmark Rowena Vida Lisbona and the Honorary Consul of Austria Peter Faistauer.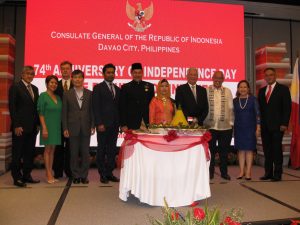 In ConGen Dicky Fabrian's opening speech, he narrated, "On August 17, 1945, the Indonesian flag was unfurled to symbolize the start of our self-determination as a free nation; free from the shackles of oppression and moving towards a brighter future for all….Decades after, Indonesia has now become much more than a developing country as we have witnessed its significant growth over time in areas concerning technology, information, communications, food and agriculture, business and trade…Indonesia is now in a dynamic position in its journey towards becoming a more active state. His Excellency President Joko Widodo has
recently stated that our foreign affairs will be more centered in humanity as the main reference of Indonesia's Foreign Affairs policy . As a Southeast Asian country, Indonesia will continue to contribute to world peace and global prosperity."
As to Philippine-Indonesian bilateral relations, ConGen Fabrian promised that it will be stronger than ever. "Indonesia has remained steadfast in its commitment to this endeavor and commits in pursuing mutually beneficial plans for both our countries. As the Consul General, I am heartened to take pleasure in the existing collaboration of the Indonesian and Philippine Governments to protect and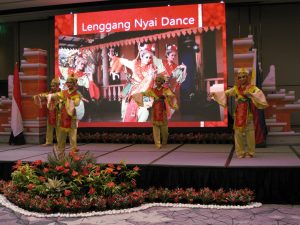 develop areas of cooperation concerning our citizens. As a diplomat and an optimist, I have confidence that there will be more areas to cover and develop."
ConGen Fabrian also revealed that Indonesia's national carrier, the Garuda Indonesia, will establish a new air route through the Davao-Manado flight starting this September 27, 2019. With the recent sea connectivity developments in the expanded BIMP-EAGA framework (Ho Chi Minh City, Vietnam, Kota Kanabalu, Malaysia, Bitung in Indonesia, Davao City), ConGen Fabrian is hopeful that the air route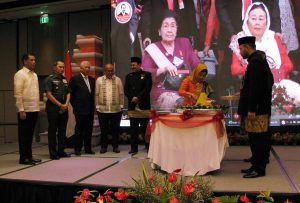 and sea connectivity will enhance and promote developments in tourism and increase business and trade investments for both Indonesia and the Philippines.
"I am happy to note that our economic relations has grown significantly.
From January to June 2019, our export to the Philippines increased to US$3.27 billion from US$3.26 billion during the same period last year. We are giving our best effort to boost and improve cooperation between our countries," informed ConGen Fabrian as he also reminded everybody that evening that it was also the 70th year of Indonesia-Philippine diplomatic relations.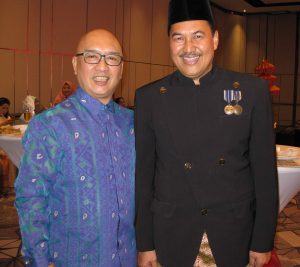 The celebration also featured lively cultural performances from the colorfully costumed students of Sekolah Indonesia Davao. There was also a photo exhibition of the different activities of the Indonesian Consulate General showcasing cooperation in areas of security, socio-cultural, economy and trade; serving and protecting Indonesian nationals living in Mindanao; Wonderful Indonesia's promotion of Food and Trade Expo, among others. Of course, all the guests had a hearty meal of Indonesian cuisine, including the traditional nasi tumpeng with pitulungan served for special occasions, prepared by Dusit Thani Hotel's chefs.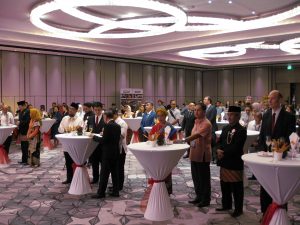 Before ConGen Fabrian bid the guests goodbye, Indonesian cultural performers invited the VIP guests and ConGen and Madame Fabrian to dance with them. What an unforgettable way to end the happy celebration of Indonesia's Independence Day. Terima Kasih, Hon. ConGen Dicky Fabrian and the Indonesian Consulate General!