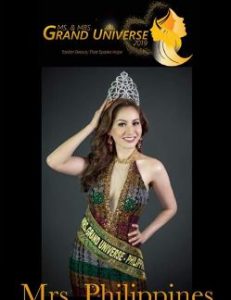 A true Davaoena, the tall, pretty, witty and yes, very talented Leah May Luna-Panisales is a true veteran of beauty pageants since she turned 13 years old. Take note that she has won over 40 beauty pageant titles. The crown from the Mutya ng Davao 2000 beauty pageant is what she considers as her most valuable piece of jewelry. That Mutya crown may have lost its luster for, after all, it has been 19 years since she last put it on her head.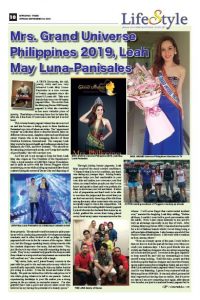 This veteran beauty pageant winner has since moved on and has become a doting mom to three handsome Panisales boys; two of whom are twins. The "empowered woman" as Leah May likes to describe herself, takes on different roles as mom, daughter, sister and a professional career woman who is the managing director of Great Nutrition Solutions, International. The company Leah May works for imports health and wellness products from Malaysia, the USA, and New Zealand. "You should try the amazing products and surely, you'll reap the benefits of good health," she will convince you.
As if her job is not enough to keep her busy, Leah May also reigns as Vice President of the Supermom's Club; a loyal member of AMUMA Cancer Foundation; and is quite an active with the Davao Ploggers whose members jog or run while picking up trash and litter found scattered along the streets of Davao City and disposing of them properly. The attractive and hot mama is quite popular as well in conducting personality development training seminars; and is often invited to sit as judge in beauty pageants held even in the far corners of the region. Mind you, but this Ilonggo-speaking beauty always travels with her constant chaperons—her mom, dad and sister. "Yes, just like how it was when I was still competing during my youth. They're my constant bodyguards who keep me safe from whatever unexpected and unpleasant encounters that will confront me," she reveals with a laugh.
"My sister, Jade, and I joined beauty contests in the past with the goal to win and earn prize money which we needed badly especially during the time my father lost his job owing to a strike. It was the bread and butter of the family. We paid our tuition fees with the cash prizes we'd win while giving whatever is left to our parents. Indeed, experiencing hardships in your life makes you a strong person in the no retreat, no surrender manner. I'm also grateful that I had a good and sincere talent scout who believed in my having the potential of a beauty queen."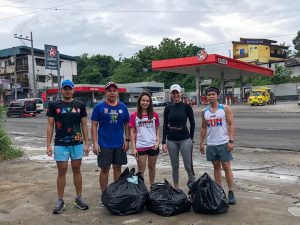 Through joining beauty pageants, Leah May acquired the much needed confidence. "I learned what it is to be confident, shy that I was during my younger days. Joining beauty pageants helps you feel comfortable in your own skin and makes you overcome your fear when you stand before people you don't even know and speak to them and even perform for them to showcase your wit and talent. It takes a lot of preparation and hard work to be able to convince the judges and the crowd that you are the best one truly deserving of the title from among the many other contestants who are just as equally eager to win in the competition. Oh yes, there was this unforgettable beauty pageant I joined wherein the declared first runner up so rudely grabbed the crown from being placed on my head as my name was announced as the winner. I will never forget that controversial incident ever," narrated the laughing Leah May adding, "Before all these, I couldn't even hold a good conversation with the adults. Now, it just comes naturally to me; and it's truly an advantage especially in my line of work. After winning Mutya ng Davao 2000, I was also hired as model for a lot of fashion brands which I loved doing being a self-proclaimed fashionista. I also became a model of Jon Nunez's Glam Model House. I did work with tv stations as host, among others."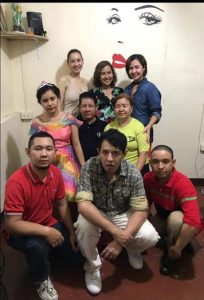 "Even as a beauty queen of the past, I truly believe that you have to look the part all the time even when you reach your matrona days. I have good friends who are stylists and fashion designers who are always supporting me to look and feel good. I exercise in the gym regularly to keep myself fit; and visit my dermatologist to keep myself young-looking. Until this time, people and that includes popular fashion designer and renowned beauty queen maker mama Renee Magtibay Salud, ask me why I didn't join national beauty pageants when I was younger. And it's very flattering. I guess I was contented with my Mutya ng Davao 2000 title. It was only after I got married that I regretted not having done so earlier. But it's never too late as I am now competing once again, after almost two decades, not just in a national beauty pageant but in an international one. I will be representing the Philippines in the coming Mrs. Grand Universe international beauty pageant this coming Sept. 26, 2019, which will be held at the Royale Resort Hotel in Batangas City."
Yes, Leah May is working very hard. The super misis does hard core rehearsals for her aerial acrobatic act for the talent competition. She is determined to win the title for the country. I wish you all the very best, Leah May Luna-Panisales. Win or loose, you will forever be the Mrs. Grand Universe of your family, relatives and dear friends. Soar high, Inday!