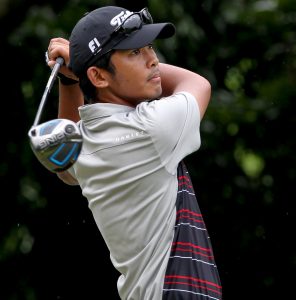 CAGAYAN de Oro – Reymon Jaraula recovered from an early backside stumble with a cluster of birdies then matched Jay Bayron's pars at the finish to card a 69 and hike his lead to two in the third round of the P2.5 million ICTSI Pueblo de Oro Championship at the Pueblo Golf and Country Club here yesterday.
Having hurdled a pivotal round jinx that ruined his title bid at Wack Wack last week with a gutsy opening 34 and a gutsier rebound from a double-bogey on No. 11, Jaraula now moved 18 holes away from ending a long search for a maiden win since breaking into the pro ranks in 2013.
"I'll just play my game and won't pressure myself," said Jaraula after edging the veteran Bayron for the second straight day behind three birdies in a four-hole stretch after his mishap on the 11th.
He missed a couple of birdie chances in the last three holes but got a break as Bayron likewise muffed his, keeping the rising Del Monte star on track of a dream victory worth P450,000 with 15-under 201 aggregate.
Bayron fell by three with a frontside 36 but moved within one after Jaraula's double-bogey then overcame a bogey on No. 12 with three straight birdies from No. 13 to scramble for a 70 and a 203.
"It can still be done. But I have to play it good and smart tomorrow (today)," said Bayron, also out to make up for his missed cut stint at Wack Wack where he reigned in 2016.
But if there's one player Jaraula and Bayron should watch out for in this sixth leg of the 10th season of the Philippine Golf Tour, it's Tony Lascuña.
The former three-time PGT Order of Merit winner, whose game took a downswing with back injuries and personal woes the last two years, finally recalled his fierce form and tied the course record 64 on a bogey-free 34-31 that put the 49-year-old shotmaker back in the title race in a long, long while.
"I could've actually shot lower if not for a couple of missed birdie putts (Nos. 9 and 10) inside five feet," said Lascuna, who birdied five of the first 13 holes then holed out with three straight birdies inside seven feet to match Frankie Minoza's feat in winning this event in 2013.
He headed straight to the practice green to polish his stroke which he said would be crucial in his bid to nail a first crown since winning at Forest Hills in late 2017.
Jhonnel Ababa likewise stayed in the hunt as he kept the momentum of his hot second round 65 with a 67, bucking a bogey on No. 4 with six birdies, including three in the last five to join a steady Ira Alido at fourth at 205.
Also out to atone for his final round foldup at Aboitiz which he led after 54 holes, Alido added a 69 to a pair of 68s to lay just four strokes off Jaraula while Johvanie Abaño birdied the last two for a 68 for joint sixth at 206 with Dutch Guido Van der Valk, who birdied the last hole to save a 71.
Michael Bibat also pressed his bid with a four-birdie card after 12 holes for a 10-under overall but the former Asian Games bronze medalist flubbed birdie putts from close range on Nos. 13 and 14 and the last two par-5s on Nos. 15 and 17 for a 69 and solo eighth at 207.
"They were just short putts (inside four feet) but I just couldn't sink them," said Bibat, who nevertheless remained hopeful of putting up a solid final round charge to get a crack at ending a long title spell on the circuit organized by Pilipinas Golf Tournaments, Inc. and backed by Custom Clubmakers, Meralco, Champion, Summit Mineral Water, K&G Golf Apparel, BDO, Sharp, KZG, PLDT and M.Y. Shokai Technology, Inc. "There's still one round left so let's see what happens."