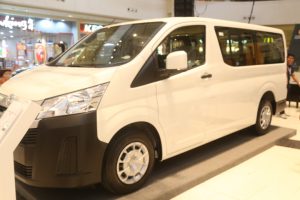 Davao City – Toyota Philippines recently launched its latest Hiace Super Grandia Elite in a classic two-day presentation at the Abreeza Mall of Davao.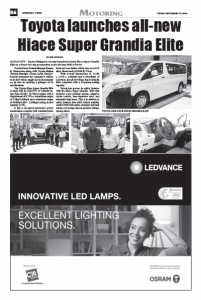 Toyota Davao General Manager Benner B. Hementera along with Toyota Matina General Manager Aleeza Lydia Patricio-Rosello presented the company's edition to its fleet which caught the local motorists on an awe in catching a glimpse of its specifications.
The Toyota Hiace Super Grandia Elite is equip with its 1GD-FTV (4 Cylinder In-line Type DOHC, 16-Valve) engine with a displacement of 2,755cc. A maximum output of 176hp/3,400rpm and a maximum torque of 450Nm/1,600 – 2,400rpm noting its fuel capacity is 70L.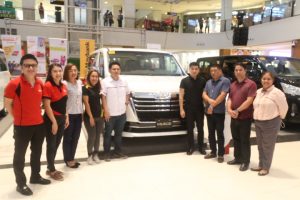 It has a six-speed automatic power transmission complete with ventilated discs front and rear brakes which runs on its LT alloy wheels and a 235/60
R17 tires.
With overall dimensions of 5,300 x 1,970 x 1,990mm and a wheelbase of 3,210mm, the all new Hiace Super Grandia Elite completes with a 10-person seating capacity.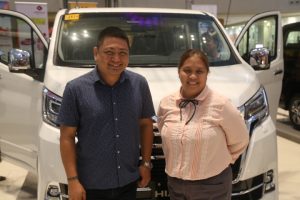 Toyota has proven its safety features with the Hiace Super Grandia Elite that includes a pre-collision system, adaptive cruise control, lane-departure alert, and automatic high beam. This is in addition to safety features like ABS vehicle stability control with brake assist, clearance and back sonars, a reversing camera, and nine airbags, among others.