What an opportune time to revisit the Charming City of Love and Dreams–Iloilo. Thanks to Megaworld's AVP and head of Public Relations and External Affairs Harold C. Geronimo, I had a wonderful opportunity to revisit Iloilo, proclaimed the 8th safest city in Southeast Asia, last September 4-7, 2019.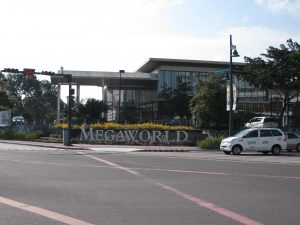 After my last visit three years ago, I am now truly amazed with the progressive development of the once sleepy city especially with Megaworld's biggest single investment outside of Luzon (amounting to a whopping 35 billion pesos) called the Iloilo Business Park.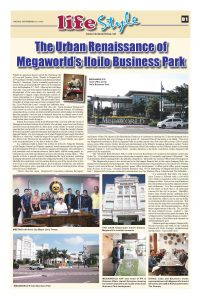 This new model Iloilo township of urban renaissance being completed with the "Live-Work-Play-Learn" concept has definitely been transforming Iloilo into a premier first class city.
Giant developer Megaworld truly knows its role to play in maintaining the delicate balance of buildings, communications, systems, products and infrastructures which makes its township function properly—and not just in technical terms but in cultural ones as well.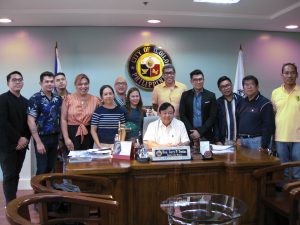 Megaworld takes its responsibility to heart to make the Iloilo Business Park a much better place worth living in.
Indeed, the creation of the Iloilo Business Park is in tune with the vision of Philippine President Rodrigo Roa Duterte who strongly urges local and foreign investors to put up businesses in other areas of the country to spread economic opportunities and growth to counter poverty; and to foster the needed changes from the long drawn underdevelopment and stagnation of areas outside of chaotic Imperial Manila. Yes, how long ago was it when President Duterte aptly described Manila as a "dead city" under the reign of the aged Erap? You just have to give it to Mayor Isko Moreno for his optimistic vision to restore Manila once again to its once gloried past, a City that is truly for Man.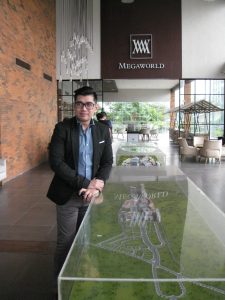 In a conference held in Iloilo City in May 24, 2016, Dr. Felipe M. Medalla of the Bangko Sentral ng Pilipinas monetary board mentioned that the growth and development of Iloilo is a model for regional development. He cited Iloilo's rich potentials such as human resource, fertile lands, skilled young people, investments in real estate and business process outsourcing, among others. "The agenda in Iloilo is geared towards strengthening the local economy, nurturing emerging enterprises and mobilize the untapped potential of the region," he said. Medalla also mentioned a survey naming Iloilo as one of the nicest cities to live in as it has a nice international airport, good academic institutions, the seafood basket of the region, plus a population that is not "inward looking but has strong niche for local community."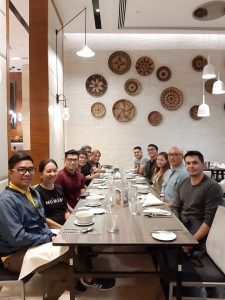 "Iloilo's time has come. Megaworld Corporation continues the legacy and history of the Old Airport in the Mandurriao District as it continues to develop the 72-hectare property into a world class township that every Ilonggo is truly proud of," expressed Harold Geronimo as he added, "The modern Megaworld township in Iloilo is equipped with its modern urban vibe; first class office towers; BPOs spread across seven office towers; festive leisure and entertainment at the lifestyle shopping destination called Festive Walk Mall; two-world class hotels namely the Richmonde Hotel Iloilo (where we were billeted, thanks to Resident Manager Natalie U. Lim) and Marriot Hotel. Another attraction is the Iloilo Convention Center designed with paraw sails for inspiration.
"The 72-hectare Iloilo Business Park is ready to become the fulcrum of commerce and industry in this new Iloilo City…From eight business process outsourcing companies alone, it is currently employing 9,189 people…The Iloilo Business Park is making Iloilo City globally competitive," informed City Tourism Officer Junel Divinagracia.
"The Megaworld project is also envisioned to be the biggest financial hub in the region bringing Iloilo into another level of progress and development. The 19-storey International Corporate Plaza is envisioned to be Western Visayas' most state-of-the-art, facility-packed 'green' office development. It offers prime office spaces ranging from 26 sq.m. to 65 sq.m.," revealed Jennifer Palmares-Ong, VP for Marketing of Megaworld-Iloilo Business Park." Megaworld's luxurious residential condominiums are One Madison Place, Lafayette and The Palladium.
It is noteworthy that Iloilo City Mayor Jerry Trenas is blessed with a city-wide view which is required in order to accelerate changes in Iloilo. Such a view would embrace the central urban area and the adjacent suburbs and settlements. It is the competitiveness of the whole of Iloilo that is of paramount concern for the city as project. Hopefully, Mayor Jerry Trenas has the confidence for a far-sighted and inspirational vision of what the city should be, what it can be, and an ability to communicate that vision to everyone. This vision must be shared by local authorities, the private sector, development agencies—all the major organizations in the city. Yes, just like the most admired tycoon, Andrew L. Tan, and all those behind the giant developer that is Megaworld in "building dreams to reality." A good vision of the future truly depends on understanding the past.
Madamo guid nga salamat, Megaworld's Harold Geronimo and staff, for the valuable Megaworld Iloilo business enlightenment among others. Sana maulit muli.