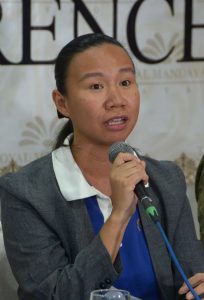 Acting Mayor Sebastian Duterte signed an executive order aimed at preventing the entry of the African Swine Fever (ASF) in the city.
"There is a need to create a body that would look into the formulation of appropriate policies and implementation of programs to protect the public and the swine industry from the threats of ASF in Davao City," said Duterte as Executive Order No. 37 created the African Swine Fever Task Force from the entry of the disease on pigs
The body will be headed by the city mayor with the city administrator as authorized representative.
This developed as hog growers in the city have called on the government to secure the entry and exit points in the city to prevent the entry of the disease.
At the Wednesdays @ Habi at Kape – Abreeza, Eduardo So, president of the Davao Hog Farmers Association, allayed the fears of the public on the possible illness for consuming infected pork meat.
Admitting that the entry of ASF in the country has affected the industry, So said there is a misconception that it would affect humans.
"(ASF) has no effect on humans, only on swine," said So, also calling on the people to prevent themselves from bringing pork and other related products from other areas into the city.
The local industry "is a net exporting" industry as it sells after 40% of its produce in areas outside Mindanao, particularly the Visayas.
He lamented that since the news on the entry of the disease in Luzon, the local market has been drastically affected even when the local industry is free from contamination.
On the other hand, Dr. Armie S. Capuyan, focal person of the Department of Agriculture regional office on ASF, said during the AFP-PNP press briefing at The Royal Mandaya Hotel
the agency has also coordinated with other agencies in monitoring the entry points.
Capuyan also urged consumers to check the products they buy of government-approved markigns. "To ensure that the meat you are about to consume (is safe), better check and search for the tatak (National Meat Inspection Service) for quality assurance that the meat underwent proper processing", said Capuyan.
Capuyan and So also called on backyard pig raisers to avoid swill feeding, or feeding their pigs with food wastes, as this might result in contamination. (With reports from UM Interns)
by Rhoda Grace Saron, Samantha Burgos and Aileen Sampang