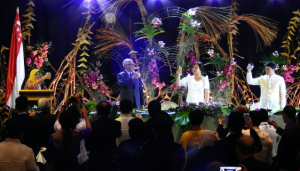 Singaporean President Halimah Yacob held a dialogue with officials and students at the Ateneo de Davao University (ADDU) yesterday as part of her five-day state visit in time for the 50th anniversary of diplomatic ties between Philippines and Singapore.
Pakighinabi, a regular engagement organized by ADDU, was on 'Conversation on Intercultural and Interreligious Dialogue', encompassing the Document on Human Fraternity on World Peace and Living Together. This peace document was signed by Pope Francis and the Grand Imam of Al-Azhar Ahmad al-Tayyeb February this year. They also discussed the strengthening Philippine-Singapore Relations.
After visiting the Philippine Eagle Center at Malagos yesterday morning, Yacob arrived at ADDU around 11:30 am, where she was welcomed by the ADDU President Fr. Joel E. Tabora S.J.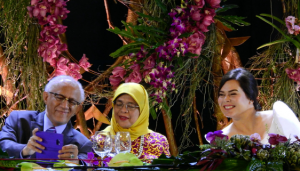 In a press briefer, ADDU said it "graciously welcomes opportunities to engage in dialogue with
leaders from our different Asian neighbors and to exchange knowledge and inspiration
which the University can use to promote its different initiatives and programs to contribute to
the pursuit of peace, social justice, and the common good in Mindanao."
The Pakighinabi was moderated by Datu Mussolini Sinsuat Lidasan, director of the Al-Qalam Institute and current member of the Bangsamoro Transition Authority.
"The Madaris Volunteer Program, Salaam Movement and Bitiala Center in Cotabato City, are extensions of the university to the communities especially in the Bangsamoro Autonomous Regions in Muslim Mindanao (BARMM). These provide opportunities that contribute to the empowerment of the different sectors of the society especially the vulnerable groups of youth, women, madrasah educators, farmers and fisherfolks and religious leaders," said ADDU.
"The government of Singapore has similar considerations to those of the Bangsamoro. With the
election of its first female Muslim President, Halima Yacob, the need to foster good relations between
the two ASEAN countries is more crucial than ever," it added.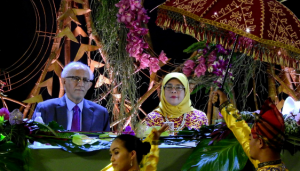 Other stakeholders included Prof. Mansoor Limba of the AdDU Islamic Studies Department; Christian Dominic Ang of the SAMAHAN Student Government; and other student-representatives from the Senior High School, the Salaam Movement, the Islamic Studies Department, and the Salaam-TAMS (The Ateneo Muslim Society).
Others who joined the event were Atty. Romeo T. Cabarde, Jr., Director of the AdDU Center Against Illegal Drugs (CAID), who facilitated the conversation.