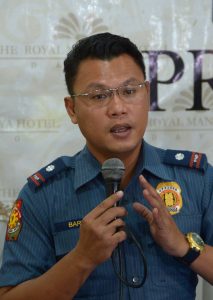 The Police Regional Office (PRO) is waiting for the 73 people who were released through the Good Conduct Time Allowance (GCTA) law since 2013, after PNP Chief Oscar Albayalde said on Sept. 2, that the prisoners who were released based on good conduct time allowance (GCTA) may be considered "fugitives" if their release orders will be reversed.
Three of the individuals released on good conduct have already reported to the Davao City Police Office and the Davao del Sur Police Provincial Office (DSPPO).
Major Jason Baria, spokesperson of PRO 11, said the Bureau of Corrections provided them with the names of the 76 released who were residing in the region.
"We do not know if there were some who already transferred (to another address)," he said.
Two surrendered at the Davao City Police Office and one in Matanao town, Davao del Sur.
"We are giving them 15 days ultimatum (which was the) order of the President then after that, a manhunt operation will be conducted (if they will not surrender)," he added.
Some of them were released since October 10, 2013.
Baria reiterated that after 15 days, those who did not surrender will be declared fugitives. The deadline is Sept. 19.
"So probably this will be an additional case for them," he said. "We are also considering, if they will surrender after 15 days depending on the case. They would rather have these people volunteer to go to the police station
Baria said most of the cases committed were statutory rape and murder .
The regional police is expecting 34 in Davao City Police Office; 10 in Davao del Norte Police Provincial Office (DNPPO); 4 in Compostela Valley Provincial Office; 12 in Davao Oriental PPO; 13 in Davao del Sur PPO; and 2 in Davao Occidental PPO, to surrender before the deadline.
Last Sept. 9, Mateo Tecson Pasaporte personally appeared at the Calinan Police Station and presented himself as one of the beneficiaries of GCTA Law who was released last August 2019. Pasaporte was facing rape and homicide cases with Criminal Case no. 31, 168-94 and no. 10, 422. He is now a 68 year-old man and resides at Calinan District, this city.
He was given a certification of appearance and escorted by Intelligence operatives to the Davao Prison and Penal Farm in Davao del Norte.
Danilo Alvarez Palicte was released from Dapecol last April 16. He gave up last Friday morning.
Palicte, a resident of Bajada here where he stayed during his temporary freedom, was convicted for raping a minor in a 1989 case. His penalty was not stated in the report but statutory rape carries a maximum penalty of reclusion perpetua.
Capt Nolan Tagsip, the spokesperson of Davao City Police Office, said Danilo Palicte and Mateo Pasaporte were already turned over to the Davao Penal Colony.
Duterte has fired Nicanor Faeldon as BuCor director general following the release of thousands of heinous-crime convicts who were not supposed to enjoy the GCTA law.