The Philippine Constructors Association (PCA) conducted last September 6 and 7, the Management Series of its highly acclaimed Construction Management Masterclass at the sidelines of the successful tenth edition of Philconstruct Mindanao in Davao City.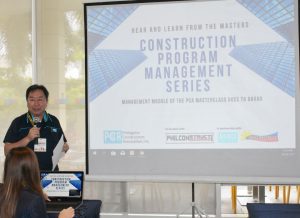 "This is the first time we brought this outside of Metro Manila and we are happy to have Davao City as our first venue" say Morris Agoncillo, president of PCA.
Some fifty participants from Davao's most prestigious construction companies, as well as others who came from Cebu and Metro Manila heard and learned from industry heavyweights who acted as the Master Lecturers that included Emilio Tumbocon (Managing Director, DATEM), Albert Ignacio (President and COO, Aboitiz Construction), Anthony Fernandez (President and COO, First Balfour), Manny Bongulto (Senior Consultants, Megawide), Levy Espiritu (CEO, DATEM), Ramon Allado (CEO, Allado Construction), and Flor Varona (COO, ESCA Knowledge).
Barry Paulino, the executive director of the PCA describes the course as one with a holistic perspective, that allowed the participants "to have a better understanding of the gamut of the construction lifecycle from project conceptualization to close-out." He adds that "the Management Series, is part of the three-part series that also includes Technical and Human Skills that PCA will also offer in Davao City, and other cities like Cebu, aside from the ten-day Masterclass that PCA offers in Metro Manila".
PCA is also conducting its Construction Supervisors Training Program, an assured program of the Institute of Leadership of the UK, in partnership with the Technical Education and Skills Development Authority, and its local chapter, the Davao Constructors Association Center Inc (DCACI). PCA also partnered with DCACI in bringing the Management Series of the Construction Program Management Masterclass to Davao."
Together with other programs that the PCA is running nationwide, this is aligned with the Philippine Construction Industry Roadmap 2020-2030 that the association closely worked on with the Department of Trade and Industry – Construction Industry Authority of the Philippines and launched last March at the first Philconstruct Luzon in Clark, Pampanga. All of these in support and sustain the momentum of President Rodrigo Roa Duterte's infrastructure program.
As it marks its seventy fifth anniversary next year, "PCA continues to lay down the foundation transforming the industry to be a global partner in building nations", Agoncillo adds.