Davao City- Title-favorite GJAPS marched their way to the finals after disposing DC Construction, 93-76 in the 2019 Uraya Forty's Basketball Club (UFBC) semifinals, Sunday at the Uraya covered court.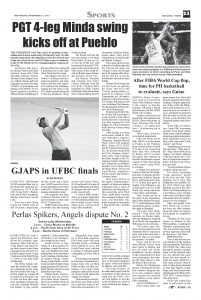 Paul Anca and Ching Garcia led GJAPS with 22 and 18 points, respectively for the victory and a finals seat. GJAPS sported a twice-to-beat advantage next to third seeded DC Construction after topping elimination round.
Ian Arguellas and Jupit Cuadrasal finished with 22 and 18 baskets, in that order for DC Construction.
SMB Pombo-Tonzo lived for another day after beating second seed Lorejo Farms, 85-63 anchored by the pair of Ronnie Millomeda and Glenn de Guzman who had 13 and 12 points, respectively.
A win for SMB Pombo-Tonzo on Sunday, September 15 will booked them a finals seat, thus beating Lorejo Farms which sports a twice-to-beat edge in the semifinals. (jon develos)