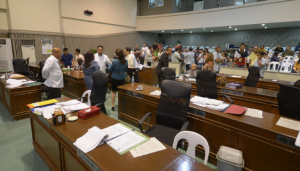 The magnitude 4 earthquake yesterday afternoon caused the adjournment of the weekly session of the City Council.
According to the Philippine Institute of Volcanology and Seismology (PHIVOLCS), Intensity 4 was felt in the city following the earthquake with an epicenter at Governor Generoso in Davao Oriental.
At 1:39 p.m. or around 40 minutes after the session started, the quake hit the city.
As the councilors were discussing the items set for second reading, Acting Vice Mayor and presiding officer Alberto Ungab called for suspension of the session due to the shaking.
Minutes after, Ungab tried to resume the session but Majority Floor Leader Councilor J. Melchor Quitain opposed and said there is a need to adjourn in order to check the Sangguniang Panlungsod building, which is over 20 years old already.
"We are afraid of aftershocks. Supposedly, right after the shaking, everyone should have vacated the building," Quitain told members of the media after the session was adjourned.
"It's safer for everybody (to cut the session) because we don't know whether there will be aftershocks," he added.
Quitain added that there is no need for a special session to cover the items that were not discussed.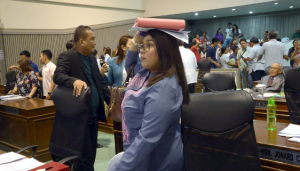 "We can still tackle this on the next regular session," he said.
Among the items that were not covered were the privilege speeches, including one from Quitain himself that will express support to the recently approved Executive Order No. 37 signed by Acting Mayor Sebastian Duterte relative to the African Swine Fever Task Force.
The Phivolcs said the epicenter of the magnitude 5.3 earthquake was located 49 kilometers east of Gov. Generoso.
The quake, which was tectonic in origin, had a depth of 39 km.
The quake was felt in Davao City at Intensity 4, which prompted evacuations in major establishments, schools, and hospitals.