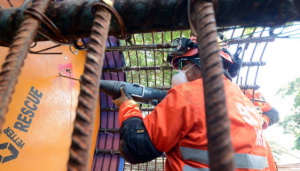 Following the magnitude 4 earthquake that hit the city yesterday afternoon, the City Disaster Risk Reduction and Management Office (CDRRMO) advised Davaoeños to take actions to prevent further damages.
"Susiha ang tibuok struktura sa imong balay, tan-awa kong adunay ba mga crack o buak, nahiwi ba ang mga haligi (Examine the whole structure of your house from its cracks and misaligned posts)," CDRRMO said in its Facebook post.
The CDRRMO also told residents to check the house, including its stairs, windows, and doors, from slanting or broken structures.
The agency also advised to check the flooring from cracks and uneven surfaces caused by the shaking.
Additionally, the CDRRMO said there is a need to examine the basement floor from cracks or dislocations from other parts of the house.
Leaking gas hose and stoves should also be checked. The water lines should also be checked from leaking and should be immediately reported to the Davao City Water District.
The CDRRMO also called the residents to immediately report irregularities brought by the shaking to Emergency Numbers, CDRRMO Operation Center number 2952387 and Central 911 number 09175369345.