Following the vehicle-borne blast in Sultan Kudarat Public Market, the chief of the Task Force Davao (TFD) is pushing for the prohibition of parking cars in certain areas and to increase the penalty for illegal parking of vehicles.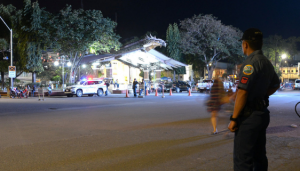 TFD commander Col. Consolito Yecla said any vehicles, even motorcycles, are now used by terrorists in carrying bombings attacks.
As a courtesy to others, Yecla said "we advice drivers or motorcycle riders not to park their vehicles or motorcycles in crowded areas."
The TFD has recommended to the City Mayor the increase of penalty for illegal parking of vehicles in crowded areas from P500 to P2,000.
He earlier recommended the banning of car parking in any streets inside the San Pedro Square.
"This is to make it difficult for terrorists to use vehicle-borne IED (improvised explosive device) in carrying out terrorism," he said.
"It will also discourage the drivers/riders from indiscriminately parking their vehicles/motorcycles anywhere in crowded areas, which makes inspection and detection of vehicle-borne IED difficult," he added.
"If crowded areas are free from parked vehicles, we can easily detect vehicles and motorcycles intentionally left behind by terrorists," he further said.
The TFD commander is also recommending to the city council the use of curtain-type inspection cubicles, similar to the fitting rooms used in malls, to help detect and address suicide bombings perpetrated by persons wearing hijab and robe-dress.
"The city government has to require malls, hotels, government buildings and other convergence areas to put up secluded… cubicles for inspections of hijab-wearing individuals," He added.
With the two bombings in other parts of Mindanao, Yecla is urging the Davaoeños "not to panic" but to "instead focus on what they can contribute to help secure Davao City."
"Everyone should practice the culture of security," Yecla said adding that everyone should "report suspicious persons and volunteer for inspections."
In a separate interview yesterday, Capt. Nolan Tagsip, the spokesperson of Davao City Police Office (DCPO), said they never lower the guard.
"We are always on alert even before Kadayawan," Tagsip said. "Our full alert status, still on high, does not go down."
He said they are intensifying the intelligence effort in close coordination with the military.
While saying they can't discount the possibility of any threat in the city, Tagsip said they have deployed more personnel in the ground.
"Especially this week that Singapore President (Halimah Yacob) will visit the city, " he added.
Four persons were wounded when an EID, placed in a vehicle parked at a motorcycle terminal, blasted in front of a busy market in Isulan, Sultan Kudarat on Saturday.
The following day, a suicide bomber was killed after blasting an Army detachment in Indanan, Sulu.