The regional office of the Department of Social Welfare and Development (DSWD XI) disclosed that communist insurgency presents a challenge on the inventory of poor households in the country.
Elvie Bahinting, regional field coordinator of DSWD XI, said they need to obtain a clearance from the local governme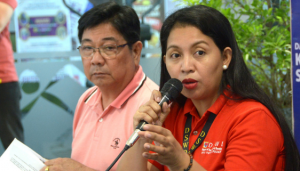 nt units in New People's Army hotspots.
"As much we want to cover all the households, recognizing that the residents in conflict-affected areas are the ones needing the most the government's services, but we can't put our field workers at risk," said Bahinting during the Listahanan 3 launch at the Kapehan sa Dabaw at SM City yesterday.
Listahanan 3 is an information system that identifies the poor households. It will also serve as the database for social interventions such as the Pantawid Pamilyang Pilipino Programs (4Ps) and the CHED-UniFAST's Tertiary Education Subsidy (TES).
Based on the data provided by DSWD, the Listahanan 3 targets to cover 834,729 households in Davao Region.
To ensure 100% coverage, the DSWD partnered with the Department of Interior and Local Government (DILG) to provide assistance to their field workers, especially in entering upland areas in the region.
Based on the agreement with DILG, the barangay captains, barangay tanods, purok leaders, and barangay kagawads will guide the field workers to the location of the poor households in their respective areas.
"We also don't want that our field workers will be at risk so we have close coordination with the DILG for clearance. We have to depend on the LGU whether they will declare the area safe to enter despite being considered a hotspot area. Only then will we really enter it," said Bahinting.
The survey-proper of Listahanan 3 is expected to begin in October after the training of the field workers, encoders, and verifiers. The validated results are expected to come out by August 2020.
The Lisatahanan I started in 2009 where 10.9 million households were visited nationwide. The number of households increased to 15.4 million during the Listahan II. The DSWD is expecting that the number of households will increase will further this year because they've included the IP communities in the upland areas, and even rebel-infested communities.
The DSWD trained around 1,905 people for this assessment, there will be 232 encoders and same for the verifiers in region. Besides DILG, Philippine Statistics Authority PSA technical working group determine by DSWD to enhance the assessment tool for Listahanan III. With reports from Irish Jean M. Atablanco/UM Intern