The Central 911 in the city is set to put up its fifth satellite station in the far-flung Marilog District to address the emergency and rescue needs in the city's third district, an official disclosed.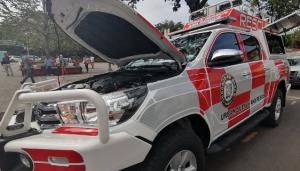 Central 911 Chief Operating Officer Emmanuel Jaldon reported the said information during the blessing of two new Urban Search and Rescue (USAR) vehicles during the flag raising ceremony yesterday at the City Hall grounds.
One of the said USAR vehicles will be deployed in the Marilog District, specifically in Barangay Marahan, which is the exact location of the said satellite Central 911 office.
The Marilog station will be the fifth Central 911 satellite office in the city, and the third in the third district, according to Jaldon.
"(In) Marilog District, vehicular accidents are very common, so we will be able to save on time," Jaldon said.
Many trucks and other vehicles usually experience mishap in the area because of its geographical features. Just last Saturday, a forward truck fell in the cliff of Barangay Suawan, Marilog District.
Jaldon did not disclose the exact date of the opening of the satellite office but he said it will "be very soon." He added that they are waiting for an ambulance to be stationed in the area before they can provide the information of the opening.
However, prior to the opening of the station, the USAR will be already deployed in the area.
"Since this USAR vehicle, which is very essential in response, is already available, we will already deploy it as soon as possible," said Jaldon.
Jaldon also said that the deployment of a modern USAR and the slated opening of a satellite office will help them be more efficient in rescue and operation.
"The Marilog area is hard to respond in the sense that it will take time because it is far from the outskirts of the city. Now that we will have a station there, it will be easier," he said.
"The two new generation vehicles… are for swift water rescue especially for flooding, road accident rescue, and high-angle and low-angle rescue," Jaldon added.
The USAR vehicles are 4×4 vehicle with off-road features and is equipped with new generation siren and communication devices and flashers.
Jaldon added that some of the equipment have yet to be procured separately. The initial cost of each USAR vehicle is at P6.4 million but it may reach to P7 million shall the other equipment be procured.
The other vehicle will be stationed either in Panacan or Cabantian area, Jaldon said.
The 911 has earlier established stations in Barangay Toril Proper in Toril District and Barangay Calinan Proper in Calinan Ditrict (both in the Third Congressional District), and in the barangays of Sasa and Cabantian in Buhangin District (in the Second Congressional District).